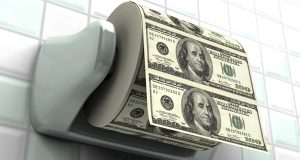 Welcome to Pump and Dump Friday, our weekly feature where we identify potentially "bogus" promotions going on in penny stocks.
Today we're exposing one of the most extensive penny stock pump and dump campaigns of the week… US Tungsten Corp. (OTCQB: USTU).
If you don't know how these schemes work, be sure to check out our free report that exposes the whole thing.
Without further ado, here is today's disaster waiting to happen:
US Tungsten Corp. (OTCQB: USTU)
USTU is one of the most heavily hyped penny stocks of the past week.  According to our sources, 15 newsletters have pumped the stock with many receiving over $65,000 for their services.
But investors appear to be ignoring the campaign.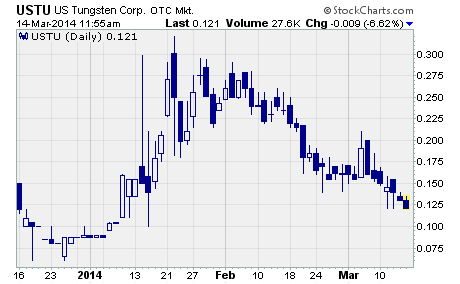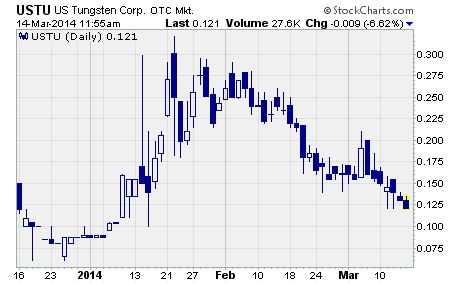 As you can see, USTU has been moving lower in a steady downtrend for several weeks.  And while the stock popped briefly when the campaign began, it has since continued its downward slide.
At this point, the stock is down 59% from the high of $0.32 set in late January.
And I can't say that I'm surprised.
US Tungsten's most recent quarterly report describes it as an "exploration stage company" that has merely just "begun investigating prospective tungsten opportunities."  The report goes on to say the company is currently trying to establish its new business and that "planned principal operations have not commenced."
As you might imagine, the company's financial situation also fails to inspire much confidence.
The business has not generated a penny of revenue since its inception in January 2007.  It's racking up recurring net losses.  And the company has an accumulated deficit of $2.1 million.
What's more, there's a severe liquidity problem.
At the end of November, the company had just $31,307 in cash and total current assets of $103,758.  However, total current liabilities are nearly seven times larger at $706,443.
In fact, management concedes in the quarterly report…
"If the Company is unable to raise additional capital in the near future, due to the Company's liquidity problems, management expects that the Company will need to curtail operations, liquidate assets, seek additional capital on less favorable terms and/or pursue other remedial measures."
Based on the above facts, it's hard to see how anyone would risk their hard earned money on USTU.  Yes the company could discover tungsten some day and develop a successful mining operation.  But there's plenty of time to see if they can first get this business off the ground.
Profitably Yours,
Robert Morris
Other Penny Stocks Being Pumped This Week
Next Generation Energy Corp. (OTCQB: NGMC) – 27 promoters with 107 newsletters have been paid over $50,000 this month to hype NGMC.
iBrands Corp. (OTCPINK: IBRC) – 17 promoters with 98 newsletters have been paid nearly $30,000 in March to plug IBRC.
Category: Pump & Dump Alerts