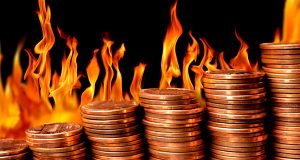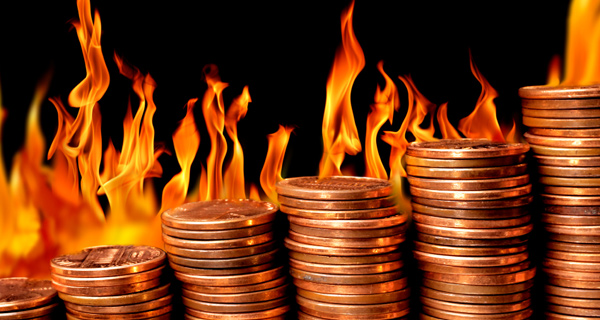 It's an exciting time for penny stocks, especially hot penny stocks like OXiGENE (OXGN), Celsius Holdings (CELH), and Clean Diesel Technologies (CDTI)…
OXiGENE (NASDAQ: OXGN)
OXiGENE took off like a rocket last week…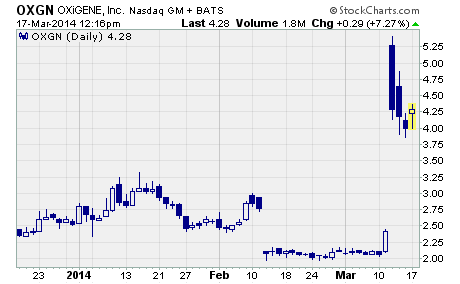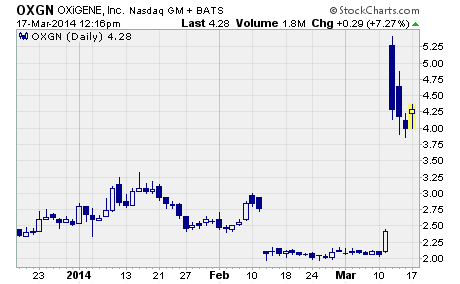 The tiny biotech soared from the prior week's close of $2.10 to a high of $5.40 last week for a stunning 157% gain.  And while it pulled back on profit taking to finish the week at $3.99, OXGN still provided investors with a monster one-week gain of 99%. 
What's more, the shares registered their highest weekly close in nearly a year.
Here's a quick description of the company…
OXiGENE is focused on developing vascular disrupting agents (VDAs) to treat cancer.  VDAs are compounds that selectively disrupt abnormal blood vessels associated with solid tumor survival and progression. 
The company's leading drug candidate is called Zybrestat. 
This fascinating drug is designed to reduce the blood supply necessary for tumor growth and survival.  The resulting oxygen starvation and build-up of tumor metabolic by-products causes cancer cells within the central core of a tumor to die.
Why did the stock soar last week?
OXiGENE reported positive top-line results from a phase 2 trial of Zybrestat in ovarian cancer. 
The mid-stage trial involved 107 patients with platinum-sensitive and platinum-resistant ovarian cancer who were randomly assigned to one of two treatment arms.  One group received Avastin alone, and the other was treated with a combination of Avastin plus Zybrestat.
Most investors were expecting the trial to fail as evidenced by the stock's plunge in February.  But in fact, the study met the primary endpoint.  The data showed a statistically significant increase in progression-free survival for the combination compared to Avastin alone.
OXiGENE is now evaluating next steps for Zybrestat.
While OXGN has doubled in just a week's time, it still offers tremendous upside potential.  The company's market cap is a paltry $13.4 million.  And given Zybrestat's blockbuster sales potential, the shares could move significantly higher from here.  
Celsius Holdings (NASDAQ: CELH)
Celsius markets proprietary, calorie-burning fitness supplements in the US and internationally.  The company's primary product, Celsius, is a negative calorie supplement drink that is clinically proven to burn calories, provide energy, and reduce body fat.
Last week, the company released a new e-book called Fast Track to Fittest.  The book is a guide for replicating the extraordinary fat loss results experienced in clinical studies by participants who drank Celsius and followed a 10-week exercise program.
The study results show that participants who drank one Celsius per day achieved significantly enhanced results over those who only exercised.  Here's a summary of the results… 
93% greater fat loss

62% better cardio fitness

32% increased endurance
No question about it, these results provide strong evidence of Celsius' multiple health benefits.  And it's not hard to see that strong sales of the fitness supplement drink could follow.
One look at the company's stock chart shows that many investors appear to think Celsius has a bright future…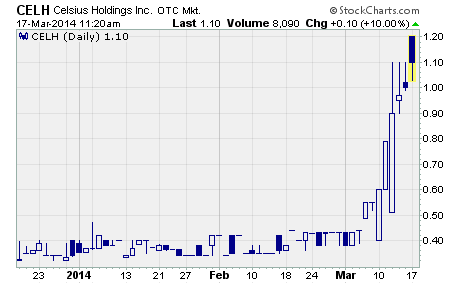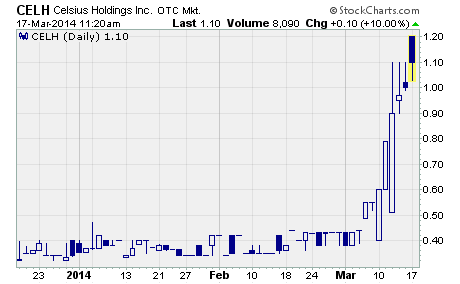 As you can see, CELH has been moving higher ever since the new e-book came out.  The stock soared from just $0.55 per share to a high of $1.10 before finishing the week at $1.00. 
That's an eye-popping return of 82% in just one week's time.
And it's not too late to climb aboard this potential penny stock juggernaut. 
Even after last week's surge, the company's market cap stands at just over $22 million.  In other words, there is huge upside potential if Celsius is able to carve out even just a small niche within the $10 billion functional beverage industry.    
Clean Diesel Technologies (NASDAQ: CDTI)
CDTI is soaring!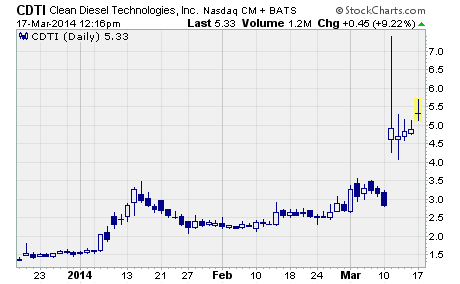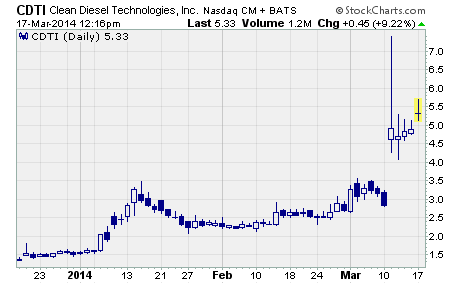 The stock rallied from $3.15 to a high of $7.39 last week for a whopping 135% gain to the high.  And while the shares pulled back to close out the week at $4.88, they still provided a hefty one-week rise of 55%.
Clean Diesel Technologies is a global manufacturer of emissions control systems for heavy duty diesel and light duty vehicle markets.  Its products utilize proprietary technologies to help reduce emissions, increase energy efficiency, and lower the carbon intensity of on- and off-road combustion engine systems.
Why is the stock rocketing higher?
Last week, the company announced it has begun production of catalysts for Honda's 2015 Acura TLX model.  Shipments are expected to begin in the first half of 2014.
The TLX is the next-generation version of Acura's best selling TL and TSX entry-level luxury sedans.  In 2013, Honda sold over 41,000 of these vehicles in the US alone.  The TLX is scheduled to hit the market this summer.
Clean Diesel began delivering catalysts to Honda in 2001.  And the company will continue to supply catalysts for the North American versions of Honda's four- and six-cylinder Accord, Acura RLX, as well as Hybrid and Plug-In-Hybrid models.
There's no question, the contract with Honda is a huge deal for Clean Diesel Technologies.  As Honda tends to use a four- to five-year lifecycle for model platforms, this could be a lucrative multi-year commitment.
Take a look at CDTI for your own portfolio.  With a market cap of just over $50 million, CDTI has substantial upside potential.
Profitably Yours,
Robert Morris
Category: Hot Penny Stocks