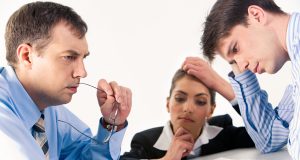 I've been following the markets for a long time.  But, I'm not sure I can remember a period where it was so difficult to guess where stocks are headed.
Don't get me wrong… in general, market direction is never easy to predict.  But it's harder now than it's ever been.
Here's the thing…
There's so much conflicting news right now.  And just when you think the uncertainty is going to clear up… some new headline comes out and throws the markets into disarray.
Take US economic news for example.
For the most part, the economic data released over the past week has been positive.  Retail sales continued their upward trend.  Industrial production was much better than expected.  And most importantly, the job market continues to show week over week improvement.
What's more, inflation numbers were extremely tame.  As it stands, despite what the alarmists might say, inflation is the last thing we need to worry about right now.
Under normal circumstances, all this positive news would trigger a market rally.
Unfortunately, there's nothing normal about present times.  And there are two massive concerns weighing on the market.
For one, the European debt crisis continues to scare the heck out of investors.  European leaders can't seem to agree on a resolution.  And every day, new headlines proclaim impending doom in Greece or Italy… or is it Spain?  Tomorrow I'm sure it'll be Luxembourg that's on the verge of default.
But that's not all…
We're also dealing with the whole Supercommittee mess in the US.  This bi-partisan group is supposed to come up with a solution to the domestic debt problem.  And the deadline for an agreement is fast approaching.  (If they can't come to an agreement, automatic, across the board budget cuts kick in.)
Although it should come as absolutely no surprise to anyone… this esteemed group of politicians can't agree on a solution both parties will support.  Shocking!
Remember what happened in August, the last time Congress couldn't agree on debt related issues?  Yeah, the market plunged and US debt lost its pristine AAA rating.
Needless to say, there's plenty of worry out there… and it's keeping a lid on stock prices.
On one side, the economy might actually be improving.  On the other hand, Europe and the Supercommittee are looming dark clouds.  So where's the market headed?
Frankly, it doesn't matter. 
All the uncertainty has caused investors to flee penny stocks.  And that means there are some really great deals on small, first-rate companies.  Good companies will get through this period, despite the volatility.  So, don't be afraid to load up on your favorite penny stocks. 
Once the global economic picture clears up, investors will return to penny stocks in droves.  And we'll be much better off than the lemmings who spend their days reacting to headlines.
Yours in profit,
Gordon Lewis
Category: Breaking News, Investing in Penny Stocks