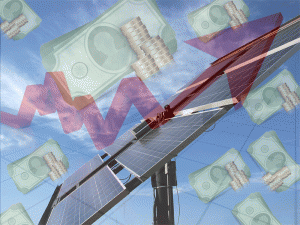 If you've ever visited Arizona during the summer, you know how hot it gets.  People living here tell their friends we have "Dry Heat", in an attempt to make it sound bearable.
Let's face it, no matter how dry it is, when it hits 115 degrees outside it's just hotter than Hades.  And keeping the A/C pumping through the hot summer is sure to push electric bills to the boiling point.  
Saving money on energy costs is a hot topic we all face daily.  You must admit, filling up at the pump feels like highway robbery!
So, I'm going to share with you a great way to save on energy costs.  But first, let me tell you about the evolving energy crisis here in the US.
I'm sure you won't be surprised to hear over 40% of our energy comes from oil.  What's more, combining our consumption of natural gas and coal adds up to another 46%.  And don't forget about nuclear power… generating only about 9% of our power needs. 
Sadly, last on the list sit geothermal, wind, and solar power.  These sources of renewable energy account for a miniscule 7% combined.
But we all hear the "Green" talk…
Are we ever going to do more than just complain about skyrocketing energy costs?  It's been over 20 years since we started talking about changing our ways and going green.
The truth is we keep torching fossil fuels faster than ever.  In fact, our consumption has increased 17% over the last 20 years.  Even with the escalating cost of oil, our appetite for crude hasn't declined.
But, aren't we are missing out on less expensive alternatives? 
Here's the thing… the best things in life are free!
Turns out, the very same scorching heat I spoke of earlier is the lifeboat we're looking for.  It's been under our noses – and over our heads – for centuries… solar power!
Advances in solar technology have been extremely slow since the 1980s.  Use as an alternative power source was not possible because of high costs of manufacturing.
You see, in order to make solar power a viable alternative to fossil fuels, exponential improvements needed to be made.  But many solar companies were unwilling to invest in the expensive but necessary technology.
But then something happened… and everything changed.
Oil prices started skyrocketing.  And suddenly, the price gap between the cost of fossil fuel and solar power was closing rapidly. 
With the increase in fossil fuels costs, an incredible opportunity was born in solar energy.
Working diligently on research and development, companies produced a new breed of efficient and low cost solar panels.  Incredibly, the cost per watt was lowered from $10 down to $2!
This was the shot in the arm the solar industry needed to make it a marketable reality.
So here we are today…
Now listen closely, because I've uncovered an incredible small-cap company, taking advantage of the blazing hot solar market…
Introducing, Real Solar Goods (RSOL).
RSOL is an innovator in the residential and commercial solar industry, selling their first system over 32 years ago.  The company installs complete solar systems on homes and businesses, primarily on the West Coast. 
Check this out…
High demand for solar installations is fueling RSOL's rapid revenue growth.  In fact, the company's most recent quarterly revenue is up 16% year over year. 
Even better…
RSOL has an incredible 50% long term growth rate, second to only one other company in the solar industry!  And with over 180 companies in the sector, that's truly an outstanding effort!
Here's the best part…
RSOL has entered into a definitive merger agreement with Connecticut based solar firm, Alteris Renewables.  The fusion brings together two solar pioneers, creating a multi-state solar integration powerhouse!
In fact, the combined "supercharged" company expects to report nearly $200 million in revenue in the first year.  That's more than double RSOL's 2010 earnings of $79 million – A huge increase… and surely to impress the market.
One more thing… most investors don't have a clue about this company or how much money they can make buying their shares.
Now's the time to act.  Consider adding Real Solar to your portfolio today and get in on the solar profit explosion!
Until next time,
Brian Walker
Category: Energy Stocks, Penny Stocks to Buy, Penny Stocks to Watch, Solar Stocks