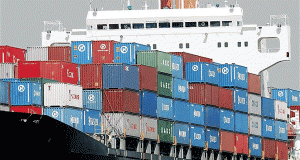 I had just finished submitting this very article for final editing and not five minutes later my cell phone rang.   The name on the caller ID was none other than William Davis, Editor In Chief of our company.
After some pleasantries were exchanged, Bill expressed some concerns about what I was writing…
"Brian, I really don't think it's fair to the paying subscribers of Penny Stock All-Stars that you publish this article right now.  I mean, this is some really good stuff here… they should be getting it first!" 
"Relax Bill," I said…
I continued on, "I'm sure Gordon's got something tasty he's cooking up for our paying subscribers this week.  Besides, I really think it's important to get this kind of research out there and into the hands of regular investors as soon as we find it."
"Well, I'm still not sure Brian," Bill replied.  "I just don't want to piss off anyone who's buying our newsletter… no matter how much they're making right now on Gordon's penny stock picks."
There was a moment of extended silence before I replied…
"Seriously boss, I don't think this is flying under Gordon's radar.  He doesn't miss all that much.   There's something you need to remember.  Gordon's picks have great valuations, and with the condition of the players in this industry – it may be too soon to get his subscribers into them.  That may change in the coming months, but I don't think now's the time." 
"Brian, that's a great point," Bill once again said.
I wrapped it up by saying, "Right now, anyone buying penny stocks in this industry is speculating big time.  It's been a beaten down industry for over four years now… a few months won't change that.  Let's see how things pan out, and I'm sure Gordon will be ready to roll out a trade when the timing is perfect!"
"Ok Brian, I'm sold.  You have my permission to go ahead on this."
So what industry were we talking about?
None other than the shipping industry, of course.  You know, dry bulk shipping, tankers, etc… the really big stuff whose rates are tracked on the Dry Baltic Index.
For nearly four and a half years, we've seen this industry in shambles.  During this time, shipping rates have dropped to the point where shipping companies can't even cover their cost of operations to transport goods.
And of course, shipping stocks have sunk to the depths of the ocean floor as a result.
But the rates appear to have put in a bottom yet again… this is the third time in the past few years the Dry Baltic Index has fallen near and tested the 650 level.
Take a look at the chart below to see the very recent retest of support…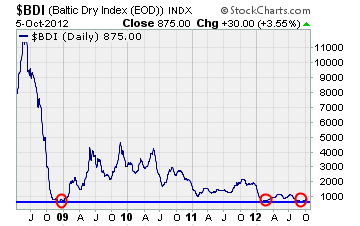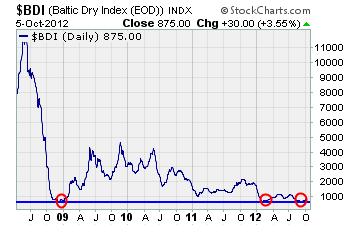 The red circles on the chart show a triple bottom has been formed over the past 3 plus years.  That's very powerful support we're seeing here, and presents a huge opportunity for a massive move higher.
So what's behind the recent move off the bottom?
Well, two things are going on here that you should know about.
First, and most obvious, QE3 has arrived.   Basically, QE3 (and the ECB's monetary stimulus) have been put in place to stimulate economic growth.  As that happens, shipping demand will certainly increase as goods travel across the globe once again.
Second, and more specific to the industry itself, the United States will be a net exporter of Liquid Natural Gas (LNG) in the next couple of years.  If you weren't aware, Cheniere Energy (LNG) is the first natural gas company that's been approved by the US Energy Department to start exporting natural gas in 2015.
And there are dozens more with applications pending…
In addition, demand is increasing in Asia where they already import natural gas at a major premium.  This is no truer than in Japan, who has shut down their nuclear reactors – which is set to create record demand for the energy source.
Now here's the deal…
Clarksons Shipping Research is reporting that nearly 59% of the $50 billion of new ship orders so far in 2012 are for LNG.  That's some pretty powerful data that leads me to believe the shipping industry is gearing up for the next big expansion in the industry.
In fact, it's the combination of QE3 with the coming expansion of LNG exports that will certainly drive shipping rates once again to profitable levels.
Needless to say, there are plenty of penny stock shipping companies to choose from.  In fact, we've highlighted some of them in past articles.   Just be certain you know what you're buying, and as always- do your homework!
***Editor's Note***  If you're considering shipping stocks, but just don't know when to get into the industry, our in-house guru Gordon Lewis has created a "must read" guide for anyone looking to capitalize on individual penny stocks.  Click here to check it out.
Until next time,
Brian Walker
Category: Penny Stocks to Buy