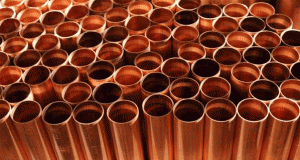 As hard as stocks have been hit the past several weeks, commodities have fared even worse.  Several key commodities are down substantially for the year, including crude oil, natural gas, and corn.
However, one commodity is setting up for what could be an impressive move higher.  I'll give you a hint – it's a metal.
You're probably thinking I'm talking about gold, or even silver.  It's true both precious metals have made a nice turnaround this year are could be headed higher.
However, there's another metal that could post even better returns in 2012 when all is said and done.
That metal is copper.
The key industrial metal is down roughly 3% for the year.  But copper's fortunes could be about to change.
Here's why…
The biggest consumer of copper in the world is China.  The Asian powerhouse accounts for over 40% of copper consumption annually.
Keep in mind, copper is a key component in construction and industry.  The more products and homes being built and manufactured, the more copper is needed.  With China growing like crazy in recent years, it's no surprise they needed so much copper.
However, the recent economic slowdown in China has meant less demand for industrial metals.  And it's caused the price of copper to tumble.
Until now.
You see, China had to raise interest rates to combat inflation, and it led to slower growth.  But, in a surprise move last week, China cut its key rate by a quarter of a percent.
In other words, growth is back on the table… and so is the need for copper.
In the meantime, copper supplies have dwindled.  With prices well below their 2011 record highs, producers have cut back.  Now, inventory is rapidly being depleted as demand ramps up.
It's just a matter of time before the bullish supply/demand dynamics of the copper market results in a significant boost in the price.  Basically, with lower supply and higher demand on the horizon, copper is perfectly positioned to climb.
So how can you take advantage?
Fortunately, there are plenty of penny stock miners who produce copper.  And with small cap stocks generally trading at a discount, you can load up on your favorite copper miners at a very reasonable price.
Editor's Note:  I'm releasing my pick today to subscribers in my flagship penny stock service Penny Stock All-Stars.  Don't miss out on your chance to grab shares in this amazing company that could be the next big player in renewable energy.  Click here for more information about this exciting service.
Yours in profit,
Gordon Lewis
Category: Commodity Stocks