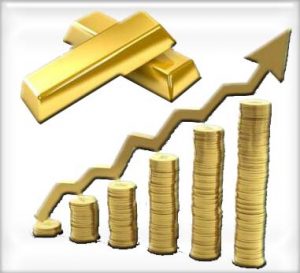 Has any investment been more important in recent years than gold?
The shiny, yellow metal has certainly made its share of headlines.   Gold climbed to record highs… and keeps breaking those records again and again.  In fact, it recently broke the $1,500 per ounce barrier.  Gold's come a long way from $250 an ounce just 10 years ago!
There's even talk of returning to the gold standard.  Some people are yearning for the days of old when currencies were backed by how much gold a government had… instead of faith in their creditworthiness.
Yes, there's been no shortage of gold news.  And there are plenty of opinions to go along with it.
So… is gold worth investing in at current prices?
Of course, investing is a subjective topic… there's rarely an obvious answer.  But, there are several compelling reasons to invest in gold.  And it can make a high-quality addition to any portfolio.
First off, gold is an inflation hedge.  A country's currency might lose value because of inflation… but rising prices basically have no impact on the price of gold.
What's more, gold is a safe haven investment.  Political and economic unrest can roil the markets… including stocks, bonds, and currencies.  But, gold won't lose its luster.
Finally, gold is a precious metal.  People love to own jewelry and other items made from precious metals like gold.  Not to mention, gold is by far the most popular of the precious metals.  And it has been for thousands of years.
Okay – so now you might be convinced to buy some gold for your portfolio.  But, because of how popular gold is, there's a ton of different ways to invest in it.
So what's the best way?
Let's take a look at some of the most common types of gold investments…
Investors can take the direct approach and buy physical gold.  That means buying coins, bullion, or even jewelry.  Hey, everyone loves holding actual gold.
Here's the problem… the costs of ownership are high.  When you own something valuable, you need to keep it safe from criminals, Mother Nature, etc.  What's more, you pay a premium for physical metals.  Plus, what are you going to do if hyperinflation or the apocalypse hits… pay for groceries in gold coins?
Physical gold is a trendy investment, but it's just not very practical.
How about buying gold futures?
Well, futures have the advantage of leverage… it can multiply your winnings.  But, the very same leverage can multiply your losses as well.  Futures are risky – there are safer ways to buy gold.
ETFs are a good, safe way to buy gold.
You aren't paying the premium you get with physical gold purchases.  And ETFs are less risky than futures.  But, you're paying full price for gold… and gold is expensive these days.  This means gold ETFs can be expensive as well.
So physical gold, futures, and ETFs all have their flaws… what about gold mining companies?
As it turns out, gold miners are a very popular way of investing in gold.
There are some major advantages to buying gold miners.  The most important of these is it allows you to invest in gold while simultaneously owning stock with growth potential.
You see, a mining company should generate cash flow.   And that cash flow can be used to grow the company to generate even bigger cash flows… and a higher stock price.  Or, it may even be used to pay the investor a dividend.
Here's the thing…
It's important to differentiate between large and small mining companies.
Large gold miners can be expensive.  What's more, once a mining company becomes large, they typically diversify into multiple types of metals and minerals.  It's no longer a pure play on gold.
And that's why my favorite way to buy gold is investing in small cap gold miners.
Small cap gold miners have almost all the advantages of large mining companies… except they're usually cheaper.  Why?  Because these companies are in the early development stage.
In many cases, they've just started producing gold or developing a new mining site.  It's a big deal because investors can often get into these stocks at a nice discount.  In other words, you're not yet paying full price for the miner's gold production and reserves.
Chances are your junior gold miner will produce gold at the industry rate eventually.  When it does, the company's value will shoot higher in a hurry.  And so will the  price of the penny stocks… which you likely purchased at a major discount.
What's more, the smaller companies typically focus only on mining gold.  They're usually not big enough to mine more than one metal or mineral at this stage… making it nearly a pure play on gold.
Here's the bottom line…
Every investor should own some gold in their portfolio.  To get the most bang for your buck, buy small cap gold miners.  You'll reap the benefits from owning gold AND owning an asset with true growth potential.
Yours in profit,
Gordon Lewis
Category: Gold Stocks