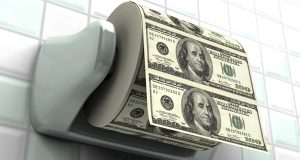 This week we're exposing these three popular Pump & Dumps:  SEFE (SEFE), Sunpeaks Ventures (SNPK), and Gamma Pharmaceuticals (GMPM).
That said, welcome to Pump and Dump Friday, where every week we identify a few of the potentially "bogus" promotions going on in penny stocks today.
If you don't know how these schemes work, be sure to check out this free report that exposes the whole thing.
Now without further ado, here are this week's "disasters waiting to happen":
I have two words for the rip-off artists over at Penny Stock Wizard… Lawyer Up.
They're running a pump and dump promotion on a company with no revenue or earnings… SEFE.
Now, I covered SEFE a bit on Tuesday… and will get back to the company in a minute.
First, I want to call out the talentless hacks over at the pumper's parent company, Stock Digest LLC.  They had the gall to steal our free report for Penny Stock Research subscribers!
Sure, they changed a couple of words to make it slightly different… and of course they added in SEFE as "the next Apple".  But fellas, that's plagiarism and copyright infringement.   End of discussion.  I suggest you take down your "report" and write your own.
Good luck with that…
What, did you think we wouldn't catch on to your scam?  Please, this is what we do… penny stocks!
Not only did these amoral jokers steal our real research report, they collected over $2 million to produce a "research report" and pump shares of SEFE.
Take a look at their disclaimer in tiny font…


If you still can't read the font, basically it tells you the company paying Stock Digest, Speed Evolution, Ltd… holds 2.7 million shares of SEFE.  Listen, if I got paid that much, I'd somehow convince you the sky was green!  So don't believe a word they're spewing.
Let me give you the dirt on SEFE… because the pumper won't.
SEFE was founded in 2008 and has yet to produce a commercially available product.  They're trying to build atmospheric energy converters… but have yet to get anything more than a prototype.  I personally have worked with companies that have ground-breaking technology in commercial form… and it's still challenging to make money!
In fact, in their latest financial report, they had this to say…
"Our technology is new and commercially untested and there can be no assurance that the Company can develop commercially salable products."
So what else did SEFE report in their financials?
Well, the obvious top line $0 in revenue was there.  And of course, the losses have been mounting.  With no revenue, SEFE reported a net loss of $538,413 in 2010 and $1,088,723 in 2011.  That's going the wrong direction!
If SEFE's management can't even confirm they're going to produce a saleable product, then why is the stock trading at over $1.20?
The pumping of course!
In their "research reports" – both written by partner companies – the pumper gives pie-in-the-sky price targets of $6 and even $12 per share.
Uh, fellas… it's clear you've never done any real financial reporting, and certainly you're no "stock analysts".  It seems all you really have is a ripped-off version of our legit free report and you've turned it into garbage.
So who's behind Stock Digest anyway?  Take a look at who signed off on this "free report"…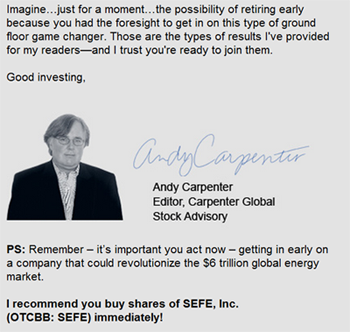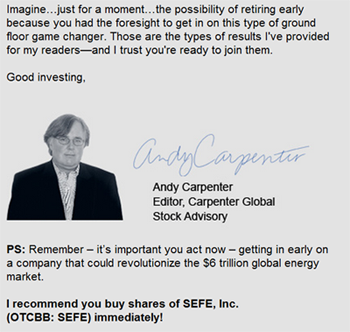 Remember, this guy recommended you buy SEFE.  And he was paid over $2 million to do it!
I recommend you stay far, far away from SEFE!
Sunpeaks Ventures (SNPK)
It seems there's one big happy pumping family running game on SNPK.
In fact, a press release was put out by none other than above-mentioned "Penny Stock Wizard".  They must be working in concert with the main pumping group for SNPK.
This press release highlighted both SEFE and SNPK at the same time… "A Tale of Two Stocks: SunPeaks Ventures Inc. (SNPK) and SEFE Inc. (SEFE)". 
It should read, "A Tale Of Two Pump & Dumps: SEFE, SNPK".  But I guess they can't fleece anyone with a title like that.
Either way, it looks like a multi-headed hydra attacking unsuspecting investors.
Going back to when I first exposed this pump and dump, I told you – "Now SNPK shares just may run pretty far, and they've already started to.  Shares were up to $0.66 just yesterday, a 12.6% gain on the day." 
Let's look at the chart…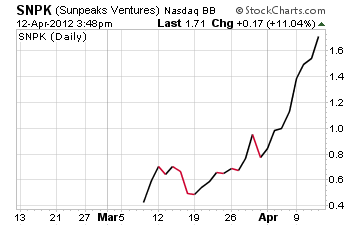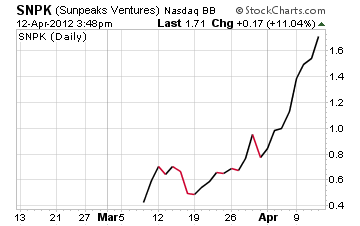 Clearly, I was right.  The stock has soared since the pumping began.  But why's the stock gone up?
Earnings?  Nope…
New products for added revenue?  Not a chance!
SNPK filed their 2011 year-end financial report and disclosed they've lost $45,982 for the last 6 months of the year.  In fact, they've accumulated over $244,000 in debt since they began in 2009!
If the stock is going up, it's only because the pumpers are releasing "news" with little to no real impact.  "SNPK signed a letter of intent to distribute to Russian Pharmacies".
A letter of intent… who cares?  That means nothing.
Wait, wait…  I've heard this line before.
Oh yeah, these are the same guys who pumped NSRS back in January… the notorious Bright Tech Media (they changed their name from Free Penny Alert, LLC to fool you).
For NSRS, they touted the company's new intent letter to dig in Chihuahua, Mexico.  That was the last we heard from NSRS back on March 9th.
And speaking of NSRS, take a look at their chart for comparison to SNPK…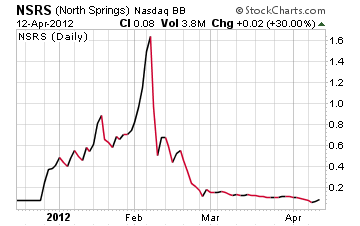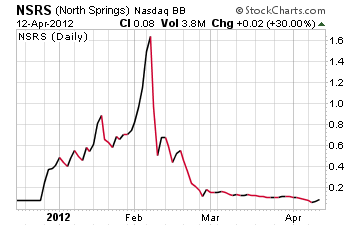 Does the first half of this chart look exactly like SNPK?  Yeah, it's kind of disturbing.
It shouldn't surprise you though.  It's the same team of pumpers doing the same job with a different company.  It makes you wonder if company insiders are in on the game.
Personally, I'd be shocked if they weren't. 
I'm making a bold call right here and right now…
SNPK under a $1 by April 23rd!
That's right… six weeks is almost up and the pumpers must move on to their next target. They're just about ready to cash out… leaving you holding the bag once again.
If you're holding shares… dump them today, right now!  Otherwise, you'll be holding a stock with a chart like NSRS' in no time!
Gamma Pharmaceuticals (GMPM)
Here's our final pump and dump scheme for the day, GMPM.  And what a POS stock this is…
For starters, the company is being promoted by David Cohen and RDI, LLC.  And over $100,000 has been spent to coerce you to buy shares.
But Gamma is nothing more than all talk and no action…
For starters, GMPM hasn't filed a single earnings report since July 2010… for the 2009 year!  So we know nothing about the company's finances for the past 3 years.  Not really what I call investment grade.
And what they did file showed they'd lost $1.5 million for the first 6 months of 2009.  That's after losing $2.1 million the year before!
The only SEC filings since then (or any financial filings) are ownership changes after fights between board members.
"On September 13, 2011, shareholders holding 52.04% of the outstanding shares of common stock of Gamma Pharmaceuticals Inc. ("Gamma") removed Hao Zhang from Gamma's Board of Directors."
All we've seen since then is the pumping "Press Releases" about GMPM's male enhancement and energy gel products.  And that just started this month (with the pumping).
With no financials to work off of, it's hard to argue this company has any value at all.  So steer clear of GMPM shares, no matter what you read!
A final word (and warning).
These are just a few of the potential "pump and dumps" we've seen lately.
Remember, there's a lot more of this going on each week than we highlight here.
As you know, penny stocks are a great place to invest your money.  You just have to do your due diligence to stay away from all the schemes and scams out there these days!
Until next time,
Brian Walker
Category: Pump & Dump Alerts