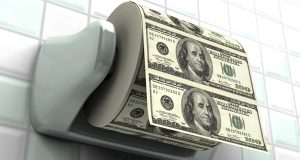 This week we're exposing these three popular Pump & Dumps: Sunpeaks Ventures (SNPK), Lexington Energy Services (LXES), and United American Petroleum (UAPC).
That said, welcome to Pump and Dump Friday, where every week we identify a few of the potentially "bogus" promotions going on in penny stocks today.
If you don't know how these schemes work, be sure to check out this free report that exposes the whole thing.
Without further ado, here are today's "disasters waiting to happen":
Sunpeaks Ventures (SNPK)
Ok, ok, I can admit when I'm wrong.  And I was wrong about one thing… the pumpers didn't stop spamming after SNPK fell off a cliff.  They actually had the guts to keep pumping a stock that had lost 75% of its peak value!   Here's some of what they're still saying…
Monday: SNPK still rising!  Clotamin now available on Ebay!
Tuesday: Why is SNPK holding its ground so well?
Wednesday: Attention Bargain Hunters: SNPK trading very low right now!
Thursday: ………………..
Still rising?  Holding its ground well?  These guys are insane.  The only 100% accurate thing they've said is Clotamin is really available on Ebay… oh, and SNPK is trading low right now (thanks for pointing out the obvious).
With no word from the pumpers yesterday, I'd bet they're all done hyping up SNPK.  They did manage to get a couple of small bounces, and now they look to be finished.  One last time, let's look at the chart to verify SNPK is really DOA…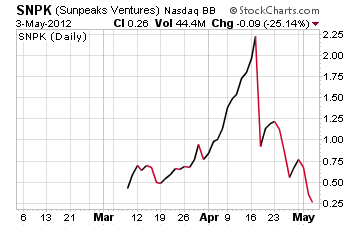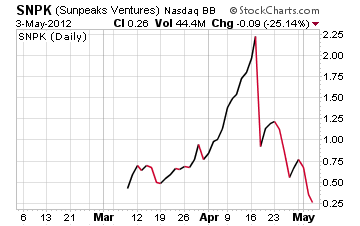 Boy, that's a sad looking chart!
With SNPK trading below its initial selling price, I'd say everyone left holding shares are holding at a loss.  So at $0.26, do you sell and take what's left?
Absolutely!  This thing will more than likely just drift lower and lower over the next few months.  So $0.26 will look great when SNPK is at $0.13… another 50% drop from here.
Lexington Energy Services (LXES)
Lexington Energy Services is one of the newest stocks being touted by the pumpers.
Some of stock promoters working to push shares of LXES higher include Club Penny Stocks, Penny Stocks Finder, Beacon Equity, Stock Roach, and Stock Hideout.  You've seen them before and you'll no doubt see them again.
So what are they saying about LXES?  Nothing fundamental, that's for sure!  All they point to is price action and charting.  One pumper even admits to no news or activity in the company, but says…
"Otherwise, this ghost chart's lines are flashing with momentum in the ABSENCE of firm information."
Can someone explain to me exactly what that means?  I know technical analysis has its own jargon, but none of it reads like that line of crap!
Here's the dirt on this company…
LXES hasn't filed with the SEC since 2008, and even pulled their registration back in December last year!  That's not what you want to see any company do… never mind one you're supposed to be investing in.
Even worse, their latest quarter ending Feb 29th shows the company had no ($0) revenue and amassed a loss of $46,146.   In fact, LXES did better in the same quarter of 2011, in which they only lost $18,000 (again on no revenue).
It's pretty clear to me that there's no reason to invest your hard earned money in Lexington Services.  So do yourself a service and ignore the pumper's hype!
United American Petroleum (UAPC)
We're seeing a pattern forming with a specific pumper… touting crapola penny stocks that are trading over $1.  And who's behind the promotions?  None other than Andy Carpenter!
Remember this guy?  We exposed his paid promotion of SEFE back in mid-April.  His group ripped off a Penny Stock Research free report and filled in the blanks with SEFE.  Shares had traded as high as $2.68 back when we exposed that pump and dump.  SEFE now trades for $1.09!  Only a 50% loss from its recent high…
Take a look at his latest work–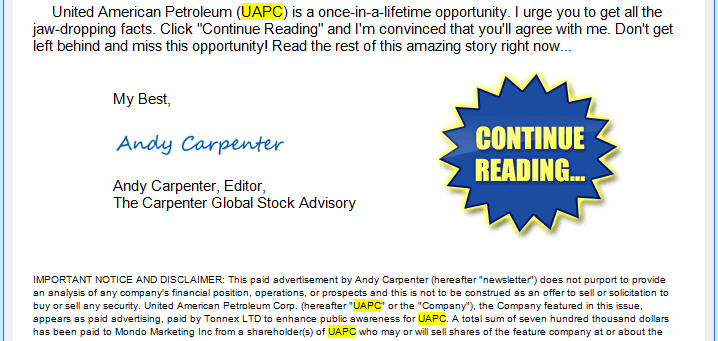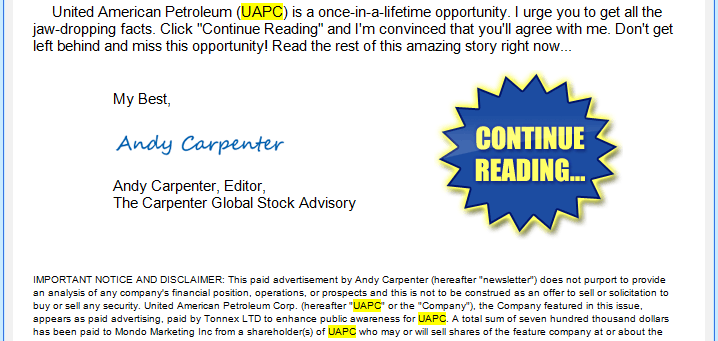 If you can't read the tiny font at the bottom, it simply says Mondo Marketing was paid $700,000 by Tonnex LTD to advertise UAPC.  And for that reason alone, you should avoid buying shares of this stock.
But that's not all…
A close scan of UAPC's latest annual report shows the company has over $2 million in notes and outstanding warrants.  While United American Petroleum does have assets, its total liabilities far exceed the company's holdings.  In fact, UAPC currently has a $1.1 million accumulated deficit!
And even though the company generated $356,540 in revenue, they racked up an annual loss of $1.08 million for 2011.
If you're trying to look past all of that, let me give you a couple of sketchy details…
First, UAPC has all of three employees.  Now that's big time, if you ask me.
Next, UAPC's "corporate offices" are maintained for approximately $200 per month.  $200, really?  I can't even lease a car for $200!  What, are they renting out Aunt Tess' basement?
Finally, two of their working interests, The Marcee 1 and the Lozano, produce a combined total of… wait for it – 7-8 and 10-12 barrels of oil per day.  That's right… a whopping 20 barrels of oil per day max from these two properties!
With the pumping, poor financials, and sketchy details, do I need to say anything else?
I think not…
A final word (and warning).
These are just a few of the potential "pump and dumps" we've seen lately.
Remember, there's a lot more of this going on each week than we highlight here.
As you know, penny stocks are a great place to invest your money.  You just have to do your due diligence to stay away from all the schemes and scams out there these days!
Until next time,
Brian Walker
Category: Pump & Dump Alerts