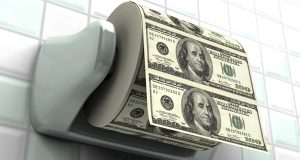 This week we're exposing these three popular Pump & Dumps: Sunpeaks Ventures (SNPK), Empire Post Media (EMPM), and IDO Security (IDOI).
That said, welcome to Pump and Dump Friday, where every week we highlight a few of the "bogus" promotions that are going on in penny stocks.
If you don't know how these schemes work, be sure to check out this free report that exposes the whole thing.
Now without further ado, here are the rest of this week's disasters waiting to happen:
Sunpeaks Ventures (SNPK)
I'm going to get straight to the point here…
It's been a bit over two weeks of pumping and shares of SNPK are up over 100%.  Take a look at the action for yourself.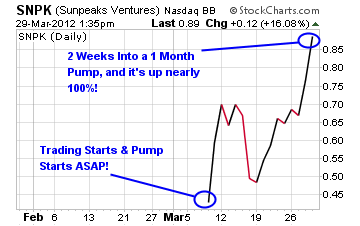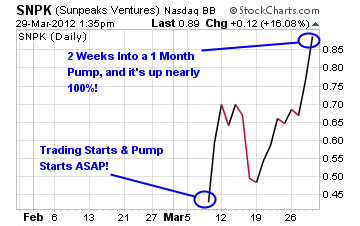 So is there any news out to justify the price action?  No…
How about earnings reports?  (Cue sounds of crickets chirping)
Nope, there's nothing but the pumping happening!
Like I said last time, this is a big contract for the Free Penny Alerts conglomerate.  They have the full court press on!  It really does remind me a lot of their last pump… NSRS.
It reminded me so much, in fact, that I felt compelled to pull up the emails from my inbox and compared the two lists.
I pretty much knew they'd be similar, but look at some of the email titles – they're almost exactly the same!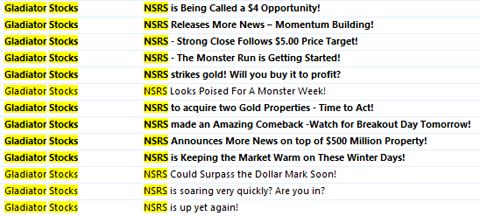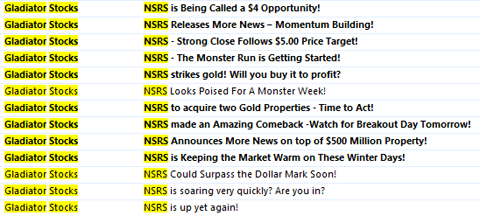 And here's the SNPK list.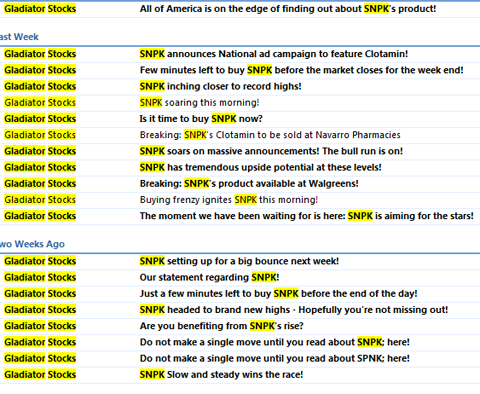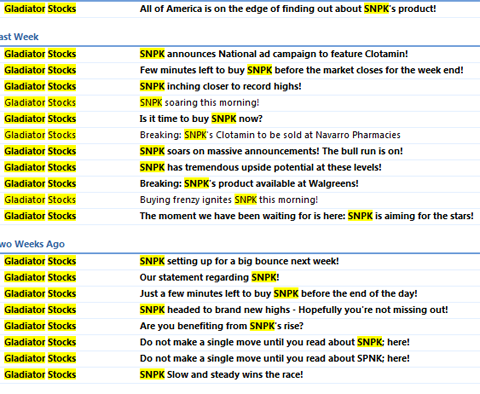 It's sad really.  "Time To Buy", "Are You Benefiting?", "Are You In?", "… Is On A Bull Run!"
So what's next?
Some shameless stock "analyst" company will get paid off to write a glowing report giving SNPK a $4 price target… mark my words.  It's coming!
There's still time left on this pump and dump… if I could short shares, I would.  Good luck trying to borrow them from your broker.
Empire Post Media (EMPM)
The pumpers picked a perfect penny stock to run a pump and dump on here, a 3D technology company.  You see, tech creates so much buzz… and tech stocks are notorious for running hot and fast.
With EMPM, the pumpers have been at it for a while now… since September 23rd of last year from what I can see.
The pumping started with Wall St Advisors for $20,000 back then.  And a month later, Market Alert collected $35,000 to pump shares of Empire.
However, the latest stock touting service took in the lion's share…
Obscure Stocks raked in $750,000 to hype EMPM!  Their campaign looks to have started on 03/24/12… so we could see quite a bit of movement in the coming weeks.
Now, with any big promotion you have to have lots of "news" and press releases.
For the first six weeks of 2012, EMPM released just nine press releases or earnings reports.  And in the last six days, there are already nine more announcements.  The best part is, the recent flow of "news" started on March 22nd… two days before the pumping started. 
Hmmm, I guess you have to have something to write about in your promo…
The other component to a really well run pump and dump involves a dedicated webpage with a fact sheet on the company.  It usually has lots of positive statistics supporting a "Strong Buy".  If you have a price target set, even better.
That gives the suckers reading the write up a dream number.  I could just imagine this conversation going on in Joe Schmo investor's house after reading the hype…
"Look dear, I found this great stock… it's only $0.20, but they're saying EMPM can go to $0.84.  I'm loading up!"
"Wow, that's a 400% gain… we'd be rich if you dumped your IRA into it!  Do it, do it now!"
How awfully sad, but you know it's happening at this very moment.
Now, usually these websites have to have a disclaimer… and it tells everyone where the company found their research.  Most times it's just facts provided by the company, which the pumper admits they don't verify (that's why it's in tiny print).  More importantly, the tiny print discloses their compensation.
It's usually not in number form, but in written numbers, like "thirty thousand dollars".    But for some strange reason, the bottom of Obscure Stocks' EMPM "report" shows an error…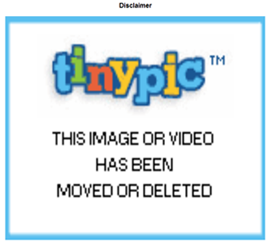 I'm sure if you called, they'd tell you, "We're sorry, we must have a technical difficulty.  We'll fix that right away."
If you made that call, nothing happens.  However, if the SEC contacts them… it'll be a different story for sure!
Before I move on, you should know EMPM lost $87,081 in 2011… and $61,654 in 2010.  The bottom line's moving in the wrong direction!
And that alone is enough to tell me EMPM isn't what I'd consider "investment worthy"!
IDO Security (IDOI)
Last but not least, we have another shady pump and dump happening in shares of IDOI.
Penny Stock Circle, a subsidiary of Global Marketing Media, was paid $30,000 to pump shares of IDOI.  While it's not all that much, any paid stock touting should be viewed as sketchy at best.
After looking at IDOI's financials, you'll agree too!
Now, this stock trades around $0.55.  I'd say they should be trading around $0.055.
Here's why…
While IDOI has $446,852 in current assets (as of September 2011), they're saddled with $17,945,250 in current liabilities!  Doing a quick valuation, IDO Security has a quick ratio of 0.02x.  That means IDOI only has enough in assets to cover 2% of their debt!
I sure wouldn't want to be their banker right now…
Well, maybe their debtholders see something in IDO's latest earnings report.
Let's hope not.   According to their latest SEC filing, IDOI lost $5.6 million in the first nine months of 2011! 
And it's not improving…
Losses in 2010 racked up to $4.5 million.  The company is clearly moving the bottom line in the wrong direction.
While all that's bad enough… I've saved the worst for last!
The company announced a reverse stock split on December 16th last year.  That's pretty normal stuff for a penny stock.  But here's the kicker… IDOI announced a 1-for-3,000 reverse stock split.
Some quick math tells us that before the reverse split… shares traded at $0.00018.
A minute ago, I said shares should be trading at $0.05.  Apparently I was being too generous!
A final word (and warning).
So that takes care of a few of this week's inglorious "pump and dumps."
Remember, there's a lot more of this going on each week than we highlight here.
As you know, penny stocks are a great place to invest your money.  You just have to do your due diligence to stay away from all the scams out there these days!
Until next time,
Brian Walker
Category: Pump & Dump Alerts