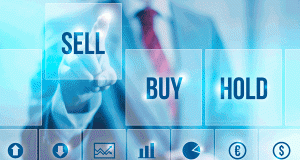 These stocks have serious red flags and are ticking time bombs in your portfolio. Several companies from our 2014 and 2015 watchlists are already bankrupt or very close, and the companies profiled this year are likely on the same track. Dump these losers immediately.
Bankruptcies — no one likes to talk about them, but they're a reality of business. Just like with everything in life, there are winners and there are losers. So this week, we're talking losers.
It is time for the third installment of our annual companies destined for bankruptcy piece. Two places we'll be scrutinizing this year are retail and the oil and gas stocks. But we're also finding some trendy companies that will crash hard.
From our 2014 Bankruptcy Watchlist, two names on the list are already in bankruptcy,Dendreon, and Walter Energy. Then there's The Bon-Ton Stores, Inc. (NASDAQ: BONT), which has fallen 85% since we highlighted it, and GameStop (NYSE: GME) is off 40%.
We also highlighted retailer RadioShack, which is now bankrupt. Then there's Sears Holdings (NASDAQ: SHLD), which is down 50% since we called it a bankrupt company.
We also gave readers some big time food for thought, as we mentioned the possibility thatUS Steel (NYSE: X) might crumble under its pension liabilities. US Steel is over 100 years old and was once the largest company in the world. Shares are down 80% since we took it to task.
And the Bankruptcy Watchlist for 2015 was just as juicy, calling out retailers and various oil-related companies. hhgregg (NASDAQ: HGG) is off nearly 70% since then, and then there are the oil companies Transocean (NYSE: RIG) down 40% and Halcón Resources Corporation (NYSE: HK) off 90%. There's also the all but bankrupt Seventy-Seven Energy (NYSE: SSE), another name off 90% since we called it out.
Our apparel retail calls were spot on, with Cache going bankrupt and the likes of bebe stores (NASDAQ: BEBE), Aeropostale (NASDAQ: ARO) and Pacific Sunwear (NASDAQ: PSUN) all falling more than 90%.
With all that in mind, let's have a look at the companies that could go bankrupt in 2016:
Company To Go Bankrupt In 2016 No. 1: Sears Holdings Corporation (NASDAQ: $SHLD)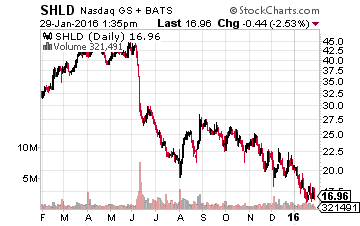 This was a name we profiled in the 2014 edition and it's lost half its market value since then. We're looking to circle back around on the name in hopes that 2016 marks its final days. Sears has cycled through all the catalysts it has available, which includes spinning off all its owned real estate.
But same-store sales continue to fall at both Sears and K-mart. This comes as the likes of Target (NYSE: TGT) and Amazon.com (NASDAQ: AMZN)are getting more aggressive with offers that overlap Sears products. Sears has a $1.85 billion market cap and $3 billion in debt. Meanwhile, it hasn't made any money on an annual net income basis since 2011.
Its free cash flow is a negative $1.7 billion over the last twelve months. At some point, it's more efficient to shut the company down and sell the scraps. 2016 should be that year. Now, for the other retailers that will go away this year.
Company To Go Bankrupt In 2016 No. 2: Pacific Sunwear (NASDAQ: $PSUN)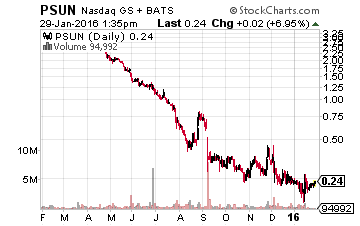 PacSun and Aeropostale are a couple of names we've profiled in the past, but it looks like 2016 will be their final year. PacSun has been closing stores at a rapid rate to try and save itself, taking its store count down a third over the last five years. Yet, on a per store basis, revenues continue to fall. It's carrying a $130 million debt load on a $15 million market cap.
Aeropostale is a maker of clothing for teenagers. Teens are a fickle group that continues to flock to the likes of Forever 21 and H&M Co., leaving Aeropostale to sell its products at deep discounts. Branded products just aren't in style. With $140 million in debt and already having lost $130 million in net income over the last twelve months, it's just a matter of time before creditors knock down the doors.
And now it is time to talk oil and gas names, with oil trading around $30 a barrel, there's going to be a lot of fallout in 2016.
Company To Go Bankrupt In 2016 No. 3: Energy XXI (NASDAQ: $EXXI)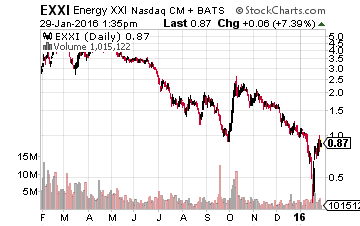 The big issue for the oil and gas companies that are set to go bankrupt is their debt loads. The likes of SandRidge Energy, Goodrich Petroleumand Swift Energy have all crumbled to high debt loads, forcing them into bankruptcy.
Energy XXI is next. Its market cap stands at $77 million, but it has $4 billion in debt. The key is that it takes Energy XXI $50 in cash to produce a barrel of oil, but it's selling it for less than $40 a barrel. Taking a loss like that, while also trying to service that hefty debt load (with debt interest equal to $20 a barrel), means that Energy XXI will not make it through 2016.
For this next installment, if you will, let's talk fad and trend products.
Company To Go Bankrupt In 2016 No. 4: Shutterfly (NASDAQ: $SFLY)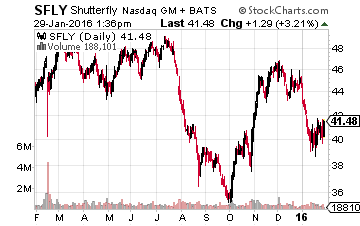 Shutterfly's core product just can't stand the test of time. The internet-based picture publishing company is carrying nearly $400 million in debt and its net income has been falling for four years.
It's lost over $30 million over the last twelve months. So, while it's selling its photos and greeting cards, it's just not making enough money doing it. The likes of Instagram,Facebook (NASDAQ: FB) and Snapchat have rendered Shutterfly useless – hence its downward trend in customers. Free photo sharing and photo storage services will eventually crush Shutterfly in 2016.
Company To Go Bankrupt In 2016 No. 5: Sprint (NASDAQ: $S)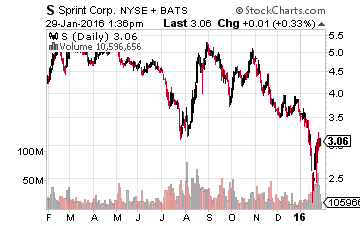 Just like in years past, we focus on a company that will catch you by surprise, but undoubtedly might be closer to extinction than many investors think. The name this year, joining the likes of Sony (NYSE: SNE) and US Steel (NYSE: X) from past years, is Sprint.
The wireless telecommunications industry is becoming a zero sum game, with AT&T (NYSE: T) and Verizon (NYSE: VZ) being the industry "winners." Sprint has a dismal record of wireless performance, and this won't change. Sprint doesn't have the resources to compete with AT&T and Verizon when it comes to investing in technology and spectrum. Sprint has $34 billion in debt on a $12 billion market cap. Plus, it's lost over $3 billion on a net income basis over the last year and has lost $5.3 billion in free cash flow. The $2 billion in cash it does have won't last long at this rate.
Bonus Pick No. 1: GoPro (NASDAQ: $GPRO)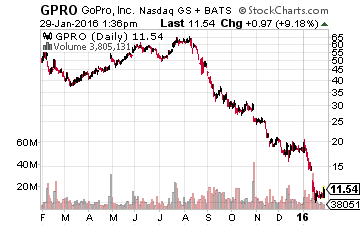 GoPro could be the next Kodak. The action camera company, GoPro, helped push the 125-year-old Kodak into bankruptcy, yet it looks like its own product won't hold up for the long-term. The high priced, $200 plus cameras that are meant for the extreme sports goer are hitting their saturation point.
The one thing going for it is the no-debt balance sheet. However, competition remains high in the camera related space and it looks like the mobile phone will remain the ultimate "camera." Ultimately sales will continue to fade and the one-hit wonder company will fade to black.
Bret Jensen thinks differently from most investors, and he is asking you too as well. In his new report, he reveals his top 3 safest blue chip stocks to buy now and reveals his proprietary, step-by-step research for building a recession-proof… crash proof… fool proof system to make every dollar invested work harder for you. See what all the hype is about for America's first "set it and forget it" investment plan.
Click here for the names of his 3 Buy and Hold Forever Stocks for 2016.
Category: Penny Stock Alerts