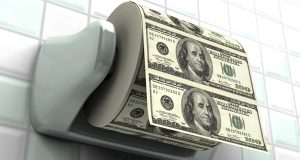 Welcome to Pump and Dump Friday, our weekly feature where we identify potentially "bogus" promotions going on in penny stocks.
Today we're exposing one of the most extensive penny stock pump and dump campaigns of the week:  Rising India (OTCPINK: RSII).
If you don't know how these schemes work, be sure to check out our free report that exposes the whole thing.
Without further ado, here is today's disaster waiting to happen:
Rising India (OTCPINK: RSII)
RSII is one of the most heavily hyped penny stocks of the past week.  According to our sources, 37 promoters have been paid more than $70,000 to pump the stock through nearly 150 newsletters.
And this isn't the first time RSII has been pumped this year.
The stock was hyped back in July by more than 45 promoters who were paid over $70,000 for their services.  And the stock soared from $0.0085 to a high of $0.06 in just four days' time.
But as it happens with most of these campaigns, the gains didn't stick.
RSII proceeded to lose more than 80% of its value over the next couple of weeks.
Unfortunately, there's no shortage of unsuspecting investors for these guys to exploit.  Despite the carnage following the prior pump campaign, investors swallowed the bait once again this time around.
These poor souls drove RSII up from $0.011 in late October to a high of $0.031 on November 13th.
But you can guess what happened next…
That's right… sellers began dumping their shares, and the stock plunged!  In fact, RSII is changing hands for a measly $0.0064 per share as I write.
The worst part is… the sharp drop has wiped out a whopping 79% of the stock's value in just three days.
I wish I could say I'm surprised.  But I'm not.  The company really doesn't offer much in terms of fundamentals.
According to the most recent quarterly report (June 2013)…
Rising India has just $334 in cash and total current assets compared to total current liabilities of $722,368.  What's more, the company's shareholder deficit is a scary $786,320.
If that doesn't give you pause, maybe this will. 
The company hasn't generated even a penny of revenue so far this year.  And it has racked up a net loss of almost $125,000.
Rising India's poor performance over the first six months of 2013 continues the trend established in 2012.  Last year, the company recorded a net loss of $529,424 after failing to produce any revenue.
Now, the company and its promoters would have you believe Rising India is about to make a fortune through its subsidiary Mayer Luce Investments.  Mayer Luce is a real estate developer that plans on developing a senior living community in Coachella Valley, California.
However, I did a little digging and found that the principals of Mayer Luce have had their share of problems in the past.
According to The Press-Enterprise, a Pulitzer Prize winning daily newspaper published in Riverside, California, Robert O. Mayer and Walter W. Luce, both went bankrupt in June 2008.  What's more, three real-estate development businesses owned and operated by the two men also went belly up that same year.
The worst part of all this is that the duo's $1 billion, 550-acre Tuscan Hills real estate development project also went up in smoke.  And the property on which the project was to be built went into foreclosure.
The point is… there's no such thing as a "sure thing" in real estate.
Don't believe the hype out there on RSII.  The company's nothing more than a speculative, real estate development stock with no revenue and mounting losses.
Other Penny Stocks Being Pumped This Week
Virtual Sourcing (OTCPINK: PGCX) – 11 promoters with 84 newsletters have been paid at least $30,000 this month to hype PGCX.
USmart Mobile Device (OTCQB: UMDI) – 31 promoters with 63 newsletters have been paid at least $15,000 in November to plug UMDI.
As you know, penny stocks are a great place to invest your money.  You just have to do your due diligence to stay away from all the schemes and scams out there these days!
Profitably Yours,
Robert Morris
Category: Pump & Dump Alerts