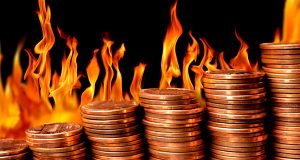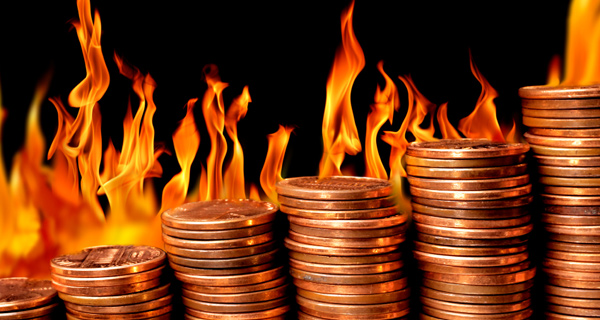 It's an exciting time for penny stocks, especially penny stocks like BioStar Pharmaceuticals (BSPM), On Track Innovations (OTIV), and USEC (USU)…
BioStar Pharmaceuticals (NASDAQ: BSPM)
This Chinese pharmaceutical penny stock is on fire!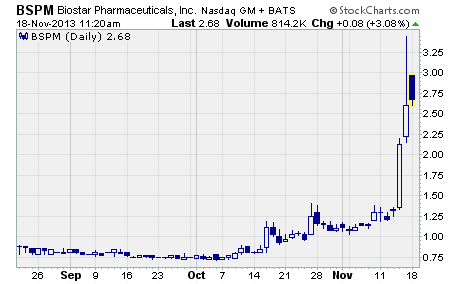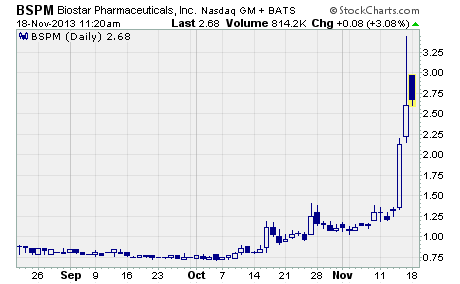 As you can see, BSPM had been climbing steadily in a tight uptrend since early October.  But last week, it broke out in a big way.  The stock soared from the prior week's close of $1.29 to a high of $3.44 before finishing the week at $2.60 per share.
That's a whopping one-week gain of 102%! 
BioStar develops, manufactures, and markets both prescription drugs and over-the-counter health supplement products in China.  The company's most popular product is an over-the-counter medicine for chronic hepatitis B, a disease that affects about 10% of the Chinese population.
Why is the stock jumping?
That's easy… the company reported outstanding third quarter earnings last week.  Revenue jumped 50% to over $15 million on higher sales volume and strong demand for several new products.  And earnings rose from a net loss of $5.94 per share in the year ago period to a profit of $0.03.
Given the magnitude of the breakout and the surge in volume, it looks like this rally has legs.  Take a closer look at BSPM for your own portfolio.  
On Track Innovations (NASDAQ: OTIV)
OTIV was another big gainer last week.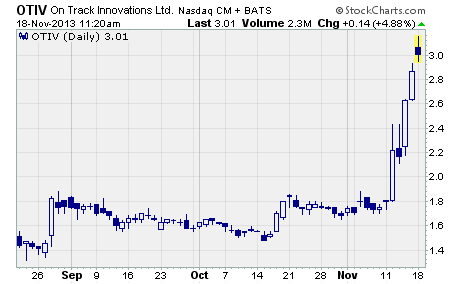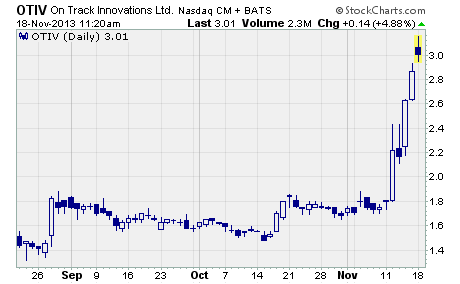 One quick look at the chart and you'll instantly see what I mean.  OTIV skyrocketed from $1.75 to a new one-year high of $2.93 before finishing the week at $2.87.  The huge upside move gave shareholders a terrific 64% gain for the week.
And the stock registered its highest weekly close in nearly three years.
On Track Innovations is an Israeli company that offers contactless, microprocessor-based smart card solutions to customers in Africa, Europe, the Far East, the Americas, and Israel.  Its products enable near field communication payment, petroleum payment and management, cashless parking fee collection, and mass transit ticketing.
Here's why the stock took off…
Last Monday, the company announced it has successfully launched EasyFuel Plus, its vehicle-fueling solution, in Africa.  Initial purchase orders totaled more than $1 million.  And this latest deployment brings the number of countries where EasyFuel Plus is being used to an impressive 43.
What's more, this news followed the prior week's exciting announcement. 
A major partner in North America has agreed to purchase $10 million worth of On Track's near field communication readers over the next three years.  The company plans on fulfilling the initial purchase orders by shipping 40,000 readers by the end of 2013.
On Track is scheduled to report third quarter earnings next Tuesday.  That announcement could serve as another upside catalyst for the stock.
USEC (NYSE: USU)
USU was in a three-month long freefall before last week.  The stock had dropped from a high of $29.12 in August to a low of $5.12 on November 7th.  But that all changed last week…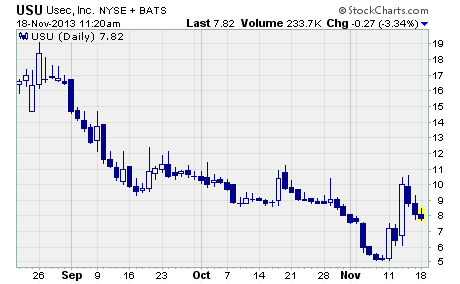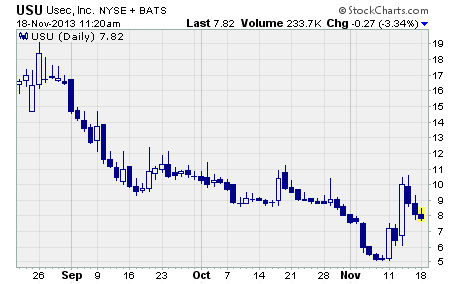 As you can see from the chart above, the stock took off like a thoroughbred out of the gate.  It climbed from the prior week's closing price of $5.28 to a high of $10.60 before finishing the week at $8.09.
That's a hefty one-week gain of 53%.
And at the high for the week, the stock had more than doubled in value.
USEC is a leading supplier of low enriched uranium to commercial nuclear power plants in the US, Japan, and internationally.  Low enriched uranium is a component in the production of nuclear fuel for reactors to produce electricity.
Why did the stock surge last week?
The stock rose on good news from the US government.  On Wednesday, the US International Trade Commission (ITC) voted to maintain duties on French low enriched uranium for at least five more years.
The duties were first imposed in 2002 and then renewed in 2007 following an investigation by the US Commerce Department and the ITC.  The duties are designed to offset the dumping of low enriched uranium on the US market by French companies.
The ruling is great news for USEC.  It means the company will be able to get competitive prices for its uranium and not be undercut by French suppliers selling it at below-market prices.
It's not clear, however, that the ruling will help the company much in the near-term.
In the third quarter of 2013, USEC reported a net loss of $44.3 million or $9.04 per share.  The heavy loss was attributed to a drop in revenue and a sharp rise in non-production costs related to the cessation of uranium enrichment at the company's Paducah Gaseous Diffusion Plant.
Now, the company is working to transition the plant back to the US Department of Energy.  But it's not clear at this time when that transition will be completed.  And as long as USEC is responsible for the plant, it will continue to incur significant costs related to it.
Proceed with caution if you're looking to trade USU.  Last week's rally could turn out to be just a short pause before the stock resumes its downward trend.   
Profitably Yours,
Robert Morris
Category: Hot Penny Stocks