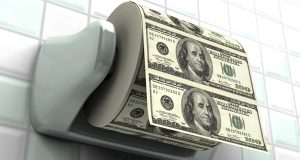 Welcome to Pump and Dump Friday, where every week we highlight a few of the "bogus" promotions that are going on in penny stocks.
If you don't know how these scams work, be sure to check out this free report that exposes the whole thing.
Without further adieu, here are this week's disasters waiting to happen:
AquaStar Holdings, Inc.  (OTC PINK: RPPR)
These guys are trying to get into the air conditioning business.  Their idea is to use water instead of freon to act as the cooling agent.  AquaStar's website states, "they intend" to build residential and light commercial units.  But to date, none are available.  What they do have is negative $930k in gross profit and an underwhelming $92 in the bank.  Stay away!
Stratton Holdings, Inc.  (OTC PINK: STHG)
It's very difficult to tell what this company does… offering everything from a Lyme disease suppressant to cell phone applications.  But the schlock pump-up marketers have still duped investors into trading 50 million shares daily.  That's pretty incredible even for a stock trading for fractions of a penny.  It's head-scratching why anyone is interested in the company at all… especially with $901 cash in the bank and $100,000 in debt.  I guess some investors like losing money!
Viper Power Sports, Inc.  (OTC PINK: VPWI)
These guys have been in business for several years designing custom motorcycles.  Now, their designs look pretty sleek – but their ability to manufacture and sell any of them is very poor.  In fact, in 2010 they sold a whopping 1 motorcycle, creating a pathetic $728 in profit.  Even worse, Viper has $1.68 million in debt and a nonexistent business plan.  More than likely, they have a non-existent future too!
Exit Only, INC.  (OTC PINK: EXTO)
This holding company appears to focus on acquiring "big idea" companies… perhaps someday they'll create an actual product.  In February of 2011, they bought a company for the purpose of obtaining a patent for making neon tubes.  They don't make any tubes, but maybe someday.  There're also talking about trading some of their shares to grab a bakery-case manufacturer.  All great ideas… I guess.  But with a $1.4 million deficit in 2009 and defaulted notes payable… they might want to find some better ideas.
A final word (and warning).
So that takes care of a few of this week's inglorious "pump and dumps".
Remember, there's a lot more of this going on each week than we highlight here.
As you know, penny stocks are a great place to invest your money. You just have to do your due diligence to stay away from all the scams out there these days!
Until next time,
Brian Walker
Category: Pump & Dump Alerts