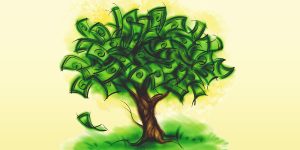 Over the past several years, our economy has really changed.  Unemployment is at all time highs and incomes are down… forcing struggling consumers to borrow more than ever.
But because of credit tightening in the financial markets, bank loans have become almost impossible to get.  Easy to get loans have evaporated forever.
So how can consumers get around this brick wall?
Well, I've got the answer.  Not only that, but I'll give you a great way to profit from the red-hot consumer lending market.
But first, let me explain what's going on…
Banks lost billions of dollars from failed mortgage loans.  So in order to protect themselves, management tightened lending requirements… making borrowing money nearly impossible.
A prime example of this can be seen with Regions Financial (RF), the 12th largest bank in the US.  They have huge exposure to mortgages and have been hit hard by loan losses.
Regions has overreacted to their plight.  Branches used to offer a diverse menu of loans and financial products to their customers.  But now with excessively strict lending policies in place, very few loans are being made at all.
So this is how it works today…
A borrower goes to the local bank and applies for a personal loan.  If he has impeccable credit, lots of cash in the bank, and doesn't really need the money… he might be granted a loan.
But if you're like most people, you might have a few chinks in your armor.  And after wading through the mountains of paperwork, you can probably expect the worst… yup… turned down flat!
Now listen, I understand Regions sustained massive losses.  And lending standards had to be tightened.  But shutting off the cash spigot hasn't helped company financials, customers, or the economy.
In fact, looking at the latest results, the company is losing $0.40 per share.  What's worse, Regions has nearly twice as much debt compared to cash on the balance sheet.  They're not making ends meet.
Topping it off, investors can expect a puny 0.60% dividend yield.  With these pathetic results, I'd think twice about buying shares in this company.
Many other banks have struggled with the same problems.  They've also tightened lending guidelines, causing a considerable loss of customers and profits.
Bankers' flight from lending has left desperate consumers nowhere to go for personal loans.  The gap between supply and demand for cash has created a chasm… giving way to new, alternative lending programs.
So now let's look at who's filling the lending void…
One company in particular, Advance America Cash (AEA), is taking advantage of the opportunity banks are walking away from.
AEA makes short term loans to borrowers unable to get money from mainstream banks.  The loans are typically short term and only for a few weeks.
Now, these loans do have higher interest rates than banks offer.
But make no mistake, Advance America provides customers needed money, making ends meet.
And here's the best part.
Borrowers qualify for the loan based on having a stable job and income… that's it!  Imperfect credit or a poor mortgage history isn't a factor at all.
This is actually an "old school" way of doing things, but it makes sense.  The borrower goes through a simple application process, employment is verified, and the loan is made.
What could be simpler?  Or provide a higher probability of re-payment?
Let me tell you this.  I'd rather lend $200 for a few weeks, than $200k on a mortgage for 30 years.  Borrower circumstances can change quickly… just look how bad things have gotten over the last three years.
So let me show you the money…
Compared to Regions Bank, Advance America is a gem when it comes to the financials.
The company has impressive positive earnings of $0.94 per share.  Even more exciting, company growth is projected to roar higher by 15% annually!
But there's more.  Advance America pays you a hefty 4.27% dividend.
Here's the bottom line…
Banks have shut their doors to most lending, leaving many borrowers high and dry.  In short, lending has changed… and probably forever.
Until banks start lending again, new penny stocks like ACA will emerge to fill the void.
That's just how capitalism works.
Advance America is a fabulous, specialized company that fills the needs of many people.  Not only do they provide an invaluable service, but they're making a ton of money in the process.  If you're looking to invest in the financial sector, stay away from banks like Regions Financial.
Instead, buy shares in penny stocks like AEA… breaking the log jam in the world of lending…
Until next time,
Brian Walker
Category: Bank Stocks, Financial Stocks, Penny Stock Alerts, Penny Stocks to Buy