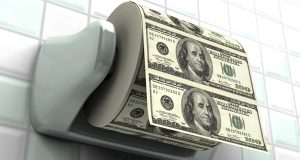 This week we're exposing these three popular Pump & Dumps:  Revolutionary Concepts (REVO), Bering Exploration (BERX), and Amwest Imaging (AMWI).
That said, welcome to Pump and Dump Friday, where every week we highlight a few of the "bogus" promotions that are going on in penny stocks.
If you don't know how these scams work, be sure to check out this free report that exposes the whole thing.
Without further ado, here are this week's disasters waiting to happen:
Revolutionary Concepts (REVO)
I love seeing emails from pumpers that start off with big cap names… and then throw in their penny stock to the mix.  As if REVO is on the same page with AAPL, BAC, RIMM and NFLX.  It's an old school pumper trick… they're trying to legitimize their stock.  Yeah right!
But that's what The Stock Psycho did for REVO… and was paid a sweet $40,000 in the process.
After slogging through all the puffery, it was time to get down to business… what does this company do?
Here's the deal…
REVO is yet another development stage company (which means they don't actually make anything yet).   The company is focusing on making a network camera video system which would let you see people at your front door from a remote location or personal device.
While the idea sounds enticing, their financials are not.  In fact, they're downright ugly!
For starters, the company has no revenue.  Well, that's easy to explain since the company only has a working prototype right now.  But it's one expensive prototype…
REVO has racked up over $4.5 million in losses to date… with over $1.5 million in 2011 alone.
And while that's bad enough, the company is flat out of cash.  Yep, they're holding a big fat goose egg in their account.  We think the company isn't long for this world, and we're not alone… even REVO's accountants agree with us.  !
On page 11 of their latest report, they say… "The losses, negative cash flows from operations, and negative working capital deficiency sustained by the Company raise substantial doubt about the Company's ability to continue as a going concern."
It certainly looks likely REVO won't be around much longer.  This $0.03 stock is one to avoid for sure.
Bering Exploration (BERX)
The distraction machine is running full speed over at Beacon Equity.  See if you can decipher their latest hype…
"Today is a red-letter day for BERX, but tomorrow's alert is now due for some market-moving NEWS of its own." 
I hope that's not supposed to excite me into buying BERX.  You fellas better come up with something better than that.  I mean, really… you got over 500,000 shares for this hype?
Now I suggest you cash them in sooner rather than later, because things don't look good over at BERX.  Let me tell you what I found…
Bering Exploration operates as an independent oil and natural gas company.   According to their SEC filings, BERX has a 5% working interest in a well in South Texas. At least that's what they're up to now.
The company was formerly known as Oncolin Therapeutics, Inc.  They changed their name to Bering Exploration Inc. in September 2010.  It seems they have a bit of an identity crisis.
While that's a red flag on its own, there's more that concerns me about BERX.
What jumps off their latest report is this… BERX has no revenue!
To make matters worse, the company has a loss of over $1 million in just the past six months… and they've run up over a $4 million loss since they started!  Clearly, there ain't that much black gold in that thar ground…
If all this bad news isn't enough to keep you away from buying this hyped up stock, then I have one more for you… the company is on bankruptcy watch.
On page 7 of their latest SEC filings, it says… "The Company has not generated revenue since its inception and is unlikely to generate earnings in the immediate or foreseeable future.  The continuation of the Company as a going concern is dependent upon the continued financial support from its shareholders…"
In other words, BERX will most likely have to raise money soon through stock offerings.  They'll be firing up the printing press once again… diluting the value of all the existing shares.
Hopefully, none of which you hold…
Amwest Imaging (AMWI)
I've saved the best for last this week… the notorious AMWI.  The pumpers simply won't stop pushing this penny stock.  In fact, I have over 20 emails in my inbox on hyping up this dog.
But, their efforts are paying off for shareholders… the stock has doubled since we last covered it.  It's gone from $0.16 to $0.32 in short order.
The company must be doing something right to merit this stock surge, right?
Nope.  The big jump is clearly due to a coordinated massive pump scheme.  It's playing out just as they hoped it would.
Some might think the move is due to some recent news…
You see, AMWI entered a share exchange agreement on September 6, 2011 with Instant Website Technology (IWTI).  AMWI picked up all the shares of IWTI in exchange for 6,060,000 shares of their common stock.
As a result, Instant Website Technology has become a wholly-owned subsidiary of AMWI.
Sounds good, yes?
Hardly.  From what I can tell, all Amwest found was a new way to rack up more losses!  Yep, that's right… IWTI had a net loss of $165,890 for their financial year ending June 30, 2011.
I guess one thing AMWI did get in the transaction was IWTI's $19,885 in cash.  Hmm, let's do a little math here…
$19,885 in cash for 6,060,000 shares… that's only $0.0032 a share!  I'm thinking the management team over at AMWI must really be desperate to do this deal.
A final word (and warning).
So that takes care of a few of this week's inglorious "pump and dumps."
Remember, there's a lot more of this going on each week than we highlight here.
As you know, penny stocks are a great place to invest your money.  You just have to do your due diligence to stay away from all the scams out there these days!
Until next time,
Brian Walker
Category: Pump & Dump Alerts