Our Review of Penny Stock Research 2014…
It's that time of the year.  It's time to take a quick look back on Penny Stock Research during 2014.  What did we do right, what did we do wrong, and what should we do different?
Here's your chance to chime in too…
If you get this article by email – thanks for being on the Penny Stock Research newsletter list – and if you have a comment or question, just reply to the email!
If you find the article on our website, feel free to leave a comment in the section below.
I'm going to read every single response, and try to respond to as many as I can!
So, let's take a moment and look at the penny stock market overall…
How Did Penny Stocks Do In 2014?
Let's start with the markets…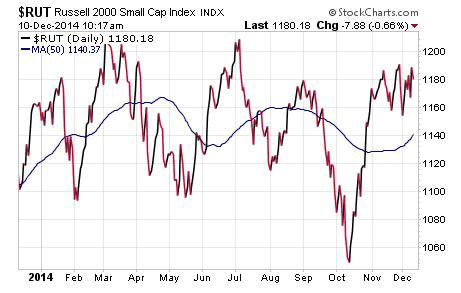 Long time readers know the Russell 2000 is the best market index for tracking small cap stocks and penny stocks.  It's a great way to compare penny stock research to the rest of the market.
As you can see, we started the year around 1160, and if all holds steady, should close out the year around 1180.  So, a tiny 20 point gain on the index or… about 1.7%.
Not exactly what we like to see, but I guess it's better than a loss.
I do see some positives… a lot of good data is coming from the improving economy.
According to Money magazine, 76% of people surveyed report "being the same" or "better" than the prior year… and a shocking 21% reported "doing a lot better".
Maybe we're finally shaking off the recession doldrums on Main Street!
People are saving more with the average 401(k) balance jumping 13%.
And despite the horrible showing in small cap stocks, 73% of investors reported confidence in the US capital markets.  Again, all according to Money magazine!
It bodes well for penny stocks in 2015…
So How Did Penny Stock Research Do In 2014?
It's always tough to give yourself a grade, but looking back, I'd say we did pretty well.
We accomplished our goal of educating the new and experienced investor about penny stocks.  We exposed scam artists with our patented Penny Stock Pump & Dump articles… and we recently reviewed our premium products and helped make investors money there too!
Looking at the popularity of our articles, one of the best was our two part series on "Penny Stock Trading Advice I Give My Friends".
If you haven't read that article yet, hit up the website and give it a read.  We cover a lot of the basics, but give our best advice on trading ever.
Unfortunately the Pump & Dump scams continued.
This year we published 37 different articles warning readers away from very specific stocks we saw being hyped by the scammers.  While I don't have hard and fast numbers, in my estimates, these Pump & Dump articles saved our readers millions of dollars of bad investments.
But that's not all we did…
Penny Stock All-Stars Results In 2014…
As some of you know, we offer a premium service called Penny Stock All-Stars.
For just $99 a year, you get access to our favorite penny stock trades every month.
These are proprietary trades we don't share on our free newsletter.  And after reviewing that service, we didn't do too bad.  We had a few trades go sideways – who doesn't.  But, we had some great trades jump in value too.
One exit reached a peak return of 172%!
Overall, we beat the markets and had fun doing it!
If you're looking for an easy to use successful penny stock trading service, give us a try. I'm biased, but I think we're the best out there!
Oh, and if you subscribe in the next few days, you'll get access to a special trade we're readying for 2015.  It's a company with a virtual monopoly in the healthcare space, and they're minting money… The trade will go live on January 1, but for Penny Stock All-Stars subscribers, we'll be sending the report early!
Sign up for Penny Stock All-Stars here.
So what does the future hold?
What To Expect From Penny Stock Research In 2015…
2015 is full of potential…
We're going to continue working on exposing the Pump & Dump scammers… we're going to try and do a better job of responding to customer questions and comments on the website… and we're working on a number of free reports for our readers to use, and hopefully share with friends. (Keep your eyes peeled for those in the coming months.)
We've already published our guide on the 10 best penny stocks for 2015. Be sure to pick up your free copy right now.
We have only a few more articles to publish this year then it's on to 2015.  Thanks for being a loyal reader and we hope you've found our newsletter helpful!
Don't forget to send us your comments and questions…
Profitably Yours,
Brian Kent
Penny Stock Research
Brian Kent has been trading the markets for more than 2 decades and now writes and edits for PennyStockResearch.com.  You can sign up for the newsletter and get a free research report – http://pennystockresearch.com/free-reports/.  We are a trusted source for the truth about penny stocks!
Category: Breaking News