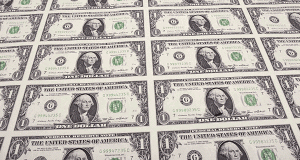 Remember, not that long ago, when I said QE3 was still a possibility?  Well, it may happen even sooner that I thought.
In case you missed it, here's a quick refresher…
A few weeks back, the Fed seemed to indicate there was enough economic improvement to shelve QE3 for the time being.  Mostly, the employment situation looked to be improving faster than expected.
However, there were still several areas of concern, including housing, European debt, and soaring oil prices.  As such, I argued not to give up just yet on the possibility of QE3.
Here's the thing…
As much as the economy is showing signs of growth, the problem areas are too significant to write off.  For instance, you can't just ignore high gas prices… we know from experience they can quickly derail the economy.
And Europe is far from out of the woods, though the headlines have calmed a bit in recent weeks.
Yet, economic headwinds aren't such a bad thing.  As a matter of fact, there's quite the silver lining in the event of an economic slowdown…
QE3.
Just this week, Bernanke implied that quantitative easing may be needed after all… and sooner than we may have guessed.
You see, the Fed still feels the economy is at risk.  The job market is better, but there are still too many unemployed people.  As long as the unemployment rate remains at current levels, downside risks remain.
And, that doesn't even take into account high oil prices or the extra slow housing recovery.
Here's the part investors like…
The stock market – including penny stocks– loves the QE programs.  It may be that actual liquidity from the Fed finds its way into equities.  Or, it could just be investor confidence getting a boost.  Either way, QE3 is good for stocks.
Keep in mind, the improving economy has been good to penny stocks so far this year.  In fact, the Russell 2000 is up roughly 12% year to date.
But should the economy falter, QE3 will be right there to prop up stocks. 
In other words, penny stocks should be in good shape to at least sustain their climb, if not continue their steady rise.   And that's something penny stock investors should be very happy about.
Yours in profit,
Gordon Lewis
Category: Breaking News, Investing in Penny Stocks