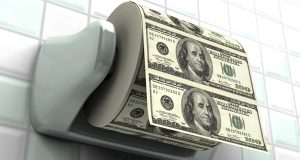 This week we're exposing these three popular Pump & Dumps:  Chimera Energy (CHMR), Greenlite Ventures (GLTV), and Force Energy (FORC).
That said, welcome to Pump and Dump Friday, where every week we identify a few of the potentially "bogus" promotions going on in penny stocks today.
If you don't know how these schemes work, be sure to check out this free report that exposes the whole thing.
Without further ado, here are today's "disasters waiting to happen":
Chimera Energy (CHMR)
With the head of a lion, midsection of a goat, and tail of a serpent… there's no doubt the Chimera is an abomination from hell.  The creature was first introduced by Homer in literature, and has certainly taken on different shapes and representations over time.
Fast forward to today, and I've run into a financial version of this thing, Chimera Energy.
For their part, the company actually has a business that seems to be viable.  CHMR markets and sells polycrystalline diamond compact cutters for use in coal mining, geological exploration, and oil and gas drilling.  They've even started working with PEMEX (Latin American oil and gas producer) on their non-hydraulic fracking technology.
But the problem is the stock's being pumped hard right now.
Earlier this week, Tribeca Investments, aka mad Money Penny Stocks, was paid $40,000 by Winning Media to pump shares of CHMR.  And just this morning I discovered Darth Trader (my favorite) was paid $57,000 by Entourage Media to hype the stock.
It's interesting that this pumping comes on the heels of CHMR's recent press release…
You see, Chimera's CEO stated he was "going on the offensive" after he claimed short-sellers were attacking his company's stock.  Here's a snippet from an 8-K they released a couple of weeks ago:
"Over the past 3 weeks Chimera has become the target of what can only be described as a blatant misinformation campaign.  These self-described "shorters" are running a highly coordinated campaign against our company consisting of falsehoods, slander and innuendo.  This campaign has consisted of misleading and libelous articles posted on the trading website Seeking Alpha, attempts to extort information from our employees and attorneys, hundreds of repetitive postings clogging company message boards, not to mention the highly illegal practice of naked shorting."
Wow… it would seem this CEO is dead set that his company has been victimized.  But now the company's stock is being pumped.
What gives?
On one hand, we have the CEO screaming his stock's been over shorted.  And on the other, we have pumpers getting paid to promote CHMR stock.  In these cases, it's best for investors to simply look at the numbers and do their own homework.
For starters, the company generated just $2,880 in revenue for the three months ending in May this year.  The cost of that revenue was $2,000 – leaving them with just $880 in gross profit.
Now you get to expenses, and this is where the company starts to lose money.  For the same period, CHMR lost $67,333.  And since the inception of the stock, Chimera lost $102,951.
In addition, share count has risen from 12.5 million to nearly 15.1 million outstanding shares of CHMR stock.
The unfortunate part is the stock is being pumped shortly after the CEO cries "short seller attack!"  Could there be a connection? We certainly will never know.
When that happens, I simply can't trust a word anyone says about the stock.  The numbers have to speak for themselves.  And with the universe of penny stocks out there you can purchase that routinely turn a profit, this stock is best left on the sidelines.
Greenlite Ventures (GLTV)
I'm hoping that two weeks ago our entire subscriber base heard me loud and clear on Greenlite Ventures.  I really wish that no one still bought shares in anticipation of a rebound – or whatever crap the pumpers were using to suck people in with.
But sadly that's not true…
If you bought GLTV thinking, "Geez, its only two cents… it can't go much lower before rebounding" – it's time to think again.  Take a look at this chart…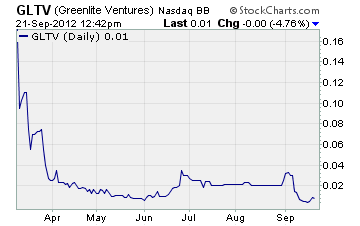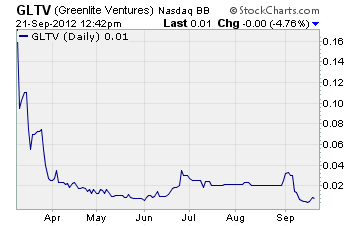 Oh yeah… you're seeing it correctly.   On September 18th, GLTV hit a low of $0.0045.  That's a loss of 77% from the bargain basement price of just $0.02. 
So now what?
There's nothing new to report from a fundamental standpoint that could have any positive impact on this stock.  Furthermore, don't buy into anything the pumpers have to say – thinking we've put in a bottom on this stock.  There's nothing saying GLTV can't go to zero!
Force Energy (FORC)
It's turned out to be a week of energy and energy related pump and dumps.  So to wrap things up this week, I'm exposing a pump and dump that's being run on shares of Force Energy by Penny Stock Spy.  They were paid $10,000 to tout this stock. 
And boy, the pumpers are talking pure nonsense here…
"Looking over this mornings news, this might be a swing play in the making as a 6.8 Bill Evaluation could attract a whole new set of investor interests and create a possible long term up swing."
Huh?  What does that even mean… a 6.8 bill evaluation?  Oh, oh… I get it.  They're saying FORC assets could be worth $6.8 billion at current lithium prices.  Of course, the pumper fails to tell you this is just a "guesstimate" on the reserves FORC could be sitting on.
But my favorite part of their hyped-up email was this…
"FORC is a force not to be reckoned with.. Lets see what the rest of the day brings. "
Excuse me?  Do you understand the English language?  Apparently the meaning of the word reckoned has slipped the grasp of this author.
Or was it a Freudian slip?
Maybe so, because FORC is truly a stock not to be reckoned with in my book!
For starters, the company lost over $400,000 for the six months ending May 31st this year.
What's more, Force Energy just released their "employee and consultant stock compensation plan".  Did the pumper tell you that the existing 55 million outstanding shares will soon be diluted by another 15 million the company is putting aside as part of this compensation plan?
Of course not, that wouldn't get you to run out and buy the stock… would it?
Needless to say, we're looking at yet another pumped stock that you can avoid putting in your portfolio.  Let me leave you with one last image that should hopefully keep you from buying this stock at any cost…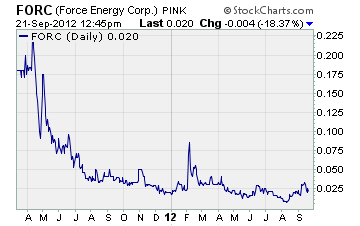 A final word (and warning).
These are just a few of the potential "pump and dumps" we've seen lately.
Remember, there's a lot more of this going on than we can highlight here.
As you know, penny stocks are a great place to invest your money.  You just have to do your due diligence to stay away from all the schemes and scams out there these days!
Until next time,
Brian Walker
Category: Pump & Dump Alerts