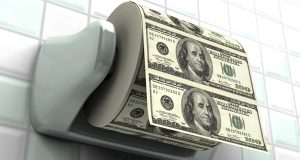 Welcome to Pump and Dump Friday, where every week we highlight a few of the "bogus" promotions that are going on in penny stocks.
If you don't know how these scams work, be sure to check out this free report that exposes the whole thing.
Without further ado, here are this week's disasters waiting to happen:
Update:  Portage Resources (OTC PINK: POTG)
As many of you have probably noticed, Portage continues to get pumped hard by a number of 'pump and dump' newsletters.  The folks behind the pumping of this piece of garbage are showing nice resolve.
The shares have powered back up to $0.91 a share.
But fear not, dear readers, the end is almost in sight for these shares.  When it starts falling, look out below… it's going to be fast and furious!  Right now this stock is like a fish out of water, desperately gasping for air.
If you're able to locate these shares for short selling, this may be the time.
Greenwood Gold Resources (OTCQB: GGRI)
This junior mining company is truly going for the gold!  And that's exactly what Gladiator Stocks wants you to think.  Why you ask?
Well, after being paid $1,000,000 by third party Anahera Inc to pump these shares, I'd try to convince you too!
But here's the thing…
The company has only three employees – earning zero revenue in the first quarter – topping it all off with a net loss of $210,252.  And did I mention they have no cash whatsoever?
But still, you might see volumes of hype infiltrating your e-mail inbox… amazing claims about the hectares of land they're going to drill and explore.  Really?  With what money?
The truth is Greenwood Gold needs to "dig-up" $450,000 in cash by July 2011 – just to pay for the mineral options and basic exploration of the land!
Perhaps they could do everyone a favor and dig a hole and bury this ridiculous fairy tale.
Allied American Steel (OTCQB: AAST)
You probably recognize AAST… they're a returning contestant to Pump & Dump Fridays!  We highlighted this very company a few weeks ago.
Like a cockroach, some companies never die…
A third party recently spent $250,000 for creating and distributing a report on AAST.
Over the last week, a new round of promotional emails and newsletters hit the street.  And one group is calling for this company to be a prime "takeover target".  And they've slapped the company with an "Urgent Buy Alert!"
Now here's where it gets interesting…
AAST management recently put out a filing with the SEC telling investors to watch out for publications discussing the future of the company.  They even go one step further, stating the company "… cautions anyone from relying on the information or advice contained [in the emails and newsletters]"
Can you blame them?
The company has yet to start any exploration or development activities.  How could they?  In their last 10-Q filing, management reports a whopping total of $25 in cash.  You probably have more in your own wallet!
Oh… and last quarter they lost $221,499!  Let's just let this one scurry away…
A final word (and warning).
So that takes care of a few of this week's inglorious "pump and dumps". 
Remember, there's a lot more of this going on each week than we highlight here. 
As you know, penny stocks are a great place to invest your money.  You just have to do your due diligence to stay away from all the scams that are out there these days!
Until next time,
Brian Walker
Category: Pump & Dump Alerts