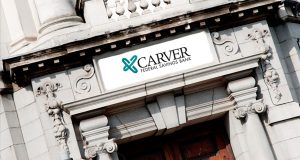 Some of the hottest penny  stocks out there can be the ones flying under most investors' radar screens.  And it can be really interesting to see what's driving the action in some of these hot stocks.
For example, take a look at one of this week's hot penny stocks… Carver Bancorp (CARV)…
CARV is a holding company for Carver Federal Savings Bank, a small regional bank focusing on serving African-American communities.  The bank has nine branches in the greater New York City area.
Here's the deal…
Carver's shares are red hot right now.  The stock soared 57% this week.  Now that's what I call a big move.
So what's going on?
Let me take a step back before answering that…
These days, there's always plenty of action in the financial sector.  And more than any other financial industry, regional banks have been all over the map.
You see, regional banks were some of the hardest hit by the financial meltdown of 2008.  And many of them are still experiencing huge swings in their share price as they try to right the ship.
And CARV is no exception.
Up until about 2008, CARV had been trading over $15 per share for years.  But when the banking crisis hit, the share price dropped to as low as $1.50.  That's quite the selloff… albeit driven by a significant broad market decline in stocks.
Then, at the end of 2009, it seemed the bank was getting back on track.  The stock price climbed to almost $10.
And that's when the bottom fell out…
As financial troubles started surfacing regarding CARV, the stock plunged.  The price hit an unseemly low of just $0.31… and liquidation seemed like a real possibility.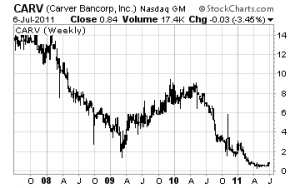 You see, the company was on life support.  They had only avoided bankruptcy through government intervention.  And as the downturn for the financial sector dragged on, it looked like CARV may be another banking casualty.
The only way the regional bank was going to survive was by raising capital.  They needed a significant infusion of cash in order to meet the US Treasury's capital requirements.  Management needed to find cash, and quickly.
And that's exactly what they did… just in the nick of time.
Just last week, the company received $55 million in cash in a private placement led by Goldman Sachs (GS) and Morgan Stanley (MS).
Needless to say, financial institutions of that caliber don't make investment decisions lightly.  If they invest in a company like CARV, they definitely believe in the long-term prospects of the bank.
So what should you do?  Is CARV a good addition to your portfolio?
On one hand, the stock is down 88% from its 52-week high.  So there's significant upside potential.  Plus, with the recent capital raise, bankruptcy isn't a likely scenario.
On the other hand, the company's revenue growth is decreasing and profits are dropping.  Moreover, it's not exactly the best environment for banks right now.
So is this week's 57% jump in CARV shares just a mirage?
Only time will tell… but CARV is clearly a high risk, high return investment.
When the financial sector does recover, CARV shares could rocket higher.  But, with a bank that's struggled as much as this, it's always a challenge to return to profitability.  The best advice I can give you is to use discretion.  One thing's for sure… I'll be keeping an eye on this hot regional bank.
Yours in profit,
Gordon Lewis
Category: Financial Stocks, Hot Penny Stocks