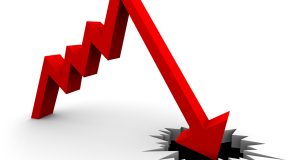 It's been one heck of a week for MF Global (MF).  If you've watched CNBC at all this week, you've definitely heard of this company. 
The commodities broker has gone from powerhouse to penny stock to bankrupt in less than a week's time. Ouch!
MF shares have plunged a whopping 67% this week and an eye-popping 86% year to date.  That's quite the haircut for investors (if any remain).
So what's going on?
Believe it or not, the downfall of MF Global is directly linked to the European debt crisis. 
Here's the deal…
At the end of August, MF Global held $7.3 billion in customer assets. At the time, it was the eighth largest futures broker in the US and a significant presence on the floor of the commodity exchanges.
That's when company founder – and former New Jersey governor – Jon Corzine decided to place large bets on European sovereign debt.  Basically, he was trying to cash in on the high yields of Euro zone bonds.
Problem is, those yields are high for a reason… risk.  Lots and lots of risk.
As the crisis worsened and European leaders couldn't agree on a resolution, things got really bad for MF.  Euro zone bond prices plunged and the company started receiving margin calls on their investments.
It turns out, Corzine had gambled a massive $6 billion on Europe… and the company couldn't cover their bets when the margin calls came. 
So what did they do?  They pulled money out of customer accounts to pay their debt.  Not only is that unethical, it's also highly illegal.
Needless to say, MF Global came unraveled pretty quickly.
When Corzine couldn't find a buyer for the company, MF Global declared bankruptcy.  In fact, the company has already been delisted from the NYSE.  (They don't waste any time…)
Moreover, the company is liquidating customer accounts.
Here's the important part…
Because MF had a large presence in the commodities markets, the liquidation of customers' accounts caused a selloff in commodities.  Energy and grain futures took a hit as positions were unwound.
Although the impact on commodities is temporary, any event moving entire markets is clearly a big deal. 
So what's next for MF Global?
The company's shares are currently trading on the OTC market… and they'll probably sell off even more.  They were halted at $1.20 a share a few days ago.  So, they likely have even further to drop before all is said and done.
Eventually, some other broker will swoop in a buy what remains of MF.  For now, the company is essentially in ruins.  I think you can close the book on this one.
Yours in profit,
Gordon Lewis
Category: Penny Stocks to Watch