These Penny Stocks Are Rising Quickly, Make Your Move!
A few days ago, I sat down at my computer with a question…
What Penny Stocks are on the rise right now?  Which ones are moving higher… making new highs… and throwing money at their shareholders?
So I jumped on the trusty internet and started poking around.
It's amazing what you can find by typing a few words into Google!
What I Found Will Shock You!
I couldn't believe what I uncovered.
I started with the three big exchanges, the NYSE, AMEX, and NASDAQ.  Then I narrowed my search down to just stocks… (you gotta get rid of the mutual funds and ETFs).
Then I looked at just companies based in the US.
No sense in muddying the waters with crazy accounting, strange exchange rates, and the like.
And of course, I screened out any company with a stock price over $5… I was looking for these elusive penny stocks.
Finally, I looked at stocks that were within 10% of the 52-week high.
More than 30 penny stocks were on my screen.
Why is this shocking?  Because I didn't even include the traditional penny stock markets like the OTCBB.
More than 30 stocks trading on the major markets fit my criteria, which is about 28 more than I expected!
Here Are Three Penny Stocks On The Rise… Right Now
So here's a quick rundown of three of the penny stocks that jumped out at me.
Data I/O Corp. (DAIO)
According to their website, "Data I/O is the world's leading provider of manual and automated device programming systems for Flash, Microcontroller and Logic devices. We serve electronics manufacturers around the world including OEM, ODM, EMS and programming centers."
The company has a $25 million market cap and about 7.8 million shares in the float.
Take a look at the chart for Data I/O Corp.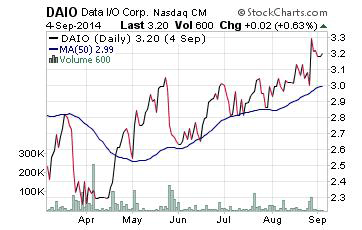 It looks to be heading in the right direction to me!
Now another company that jumped out at me was…
Codexis, Inc. (CDXS)
Look at the chart… What do you see?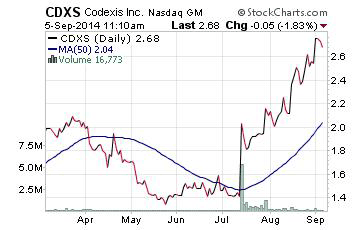 Do you see it?
In the middle of July, the stock suddenly started getting attention from a lot of investors… volume and price spiked.
The company has a $100 million market cap, and of course, my initial thought was about scammers working a pump & dump.
But… then I dug a bit deeper.
I found a press release from the middle of July… right around the big run-up.  The company announced a HUGE deal with GlaxoSmithKline.  If you don't know who Glaxo is, just back away from your computer slowly!
Anyway, the stock continues to march higher and is probably worth a closer look.
The final company to jump out at me is:
United Community Financial Corp. (UCFC)
This is a regional bank that's been slowly working its way higher.
They have a $229 million market cap and pay a DIVIDEND – the first since 2008!
It's a nice chart from a decent business.
Should You Quickly Buy Penny Stocks On The Rise?
In a word, NO.
Using quickly rising penny stocks as a starting point for your research is never a bad idea.
It never hurts to have the wind at your back.
That said, don't just rush out and start buying.
Do your research.  Read about the companies… look to see how they operate and how they make money.
Fundamental research is critical… and only after they've passed YOUR sniff test should you consider buying them.
Category: Hot Penny Stocks