Here Are Some Penny Stocks On The Rise…
Since the beginning of this year, a handful of penny stocks have been on the rise.
While some have seen a dramatic increase recently, a few penny stocks have seen major gains up to 33,000%.  (Yes, that's right… 33,000%!)
Identifying penny stocks on the rise can help you develop a keen sense for up and coming companies worth researching further.
It can also help you recognize scams and sell at the right point to maximize return. The potential for life changing gains is a large part of why many investors are interested in penny stocks in the first place!
So let's look at the big winners so far…
Medical And Health Related Penny Stocks On The Rise
In a variety of industries, penny stocks have grown considerably over the last 11 months, but the top players are largely companies related to medicine or health.
This shouldn't be a surprise as the medical industry is huge!
Of course, there are other penny stocks on the rise in energy, communication, and marketing.  However… of the top ten stocks with the largest gains this year, seven are related to medicine and health.
Penny stocks in 2014 have risen from 180% to 33,000% so far, and many people say we can expect to see this trend continue.
Of course you've got to be wary of stocks that have already had a big run-up.
Here's the interesting part… The majority of the big gains are from the fields of health and medicine.  And it gives us a good indication for future investments.
So without further delay, here are a handful of the top penny stocks on the rise in the health and medical fields so far in 2014:
Med-Cannabis Pharma Inc. – This is the year's big gainer – at one point reaching a 33,233% gain.  MCPI, a medical marijuana dispensary company, has been in the spotlight for a good part of this year. Pot penny stocks have seen much success in share-price climbs this year!  As you can see, the stock jumped from fractions of a cent to over $1.00 … and has since given up much of those hard earned gains.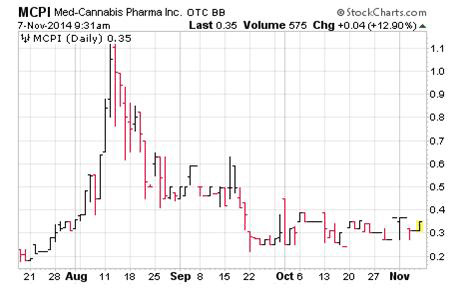 Creative Edge Nutrition Inc. – FITX markets and sells nutraceuticals and health supplements and has had a 1,194% gain since January 2014. As you can tell, the stock had a great run, and has since given up a lot of its gains. The stock trade for fractions of a penny, only to jump to over $0.11 a share…
IsoRay Inc. – ISR develops, manufactures, and sells isotope-based medical products used in treating cancer. Since January, stocks have seen a 368% gain but has given up some of those gains.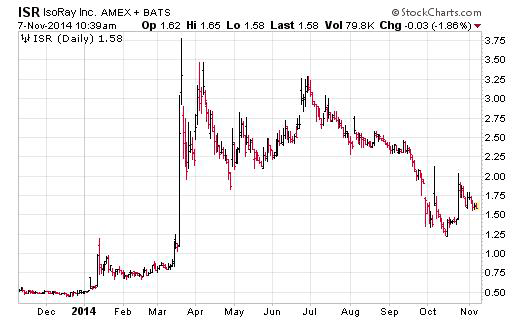 RadNet Inc. – RDNT provides fixed-site outpatient imaging services for diagnostics and has a year-to-date gain of 314% and market cap of $293 million.  A great little company that's seen its stock surge!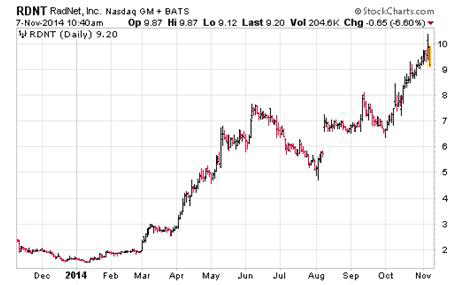 Pernix Therapeutics Holdings Inc. – The specialty pharmaceutical company, PTX, has had a spectacular gain of over 308%.  At the start of the year, you could have scooped up shares for just $2.45 each… and they hit a high of $10 just a short while ago.
Amicus Therapeutics Inc. – FOLD is a pharmaceutical company specializing in small molecule drugs that have applications for a wide range of diseases. The stock is showing peak gains of over 215% this year.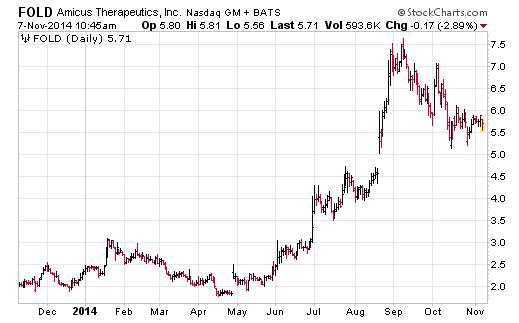 These penny stocks on the rise all share a connection to health and medicine, which suggests that growing companies related to pharmaceuticals and health may be worthwhile investments in 2015…
While gains like these are spectacular, it's important to recognize some of the top performers are traded OTC, and those stocks often carry considerably more risks!
While risk is a part of penny stock trading, buying penny stocks already on the rise can be a good strategy for identifying trades.
Can You Predict Penny Stocks On The Rise?
Unless you have a crystal ball, identifying stocks that skyrocket higher can be a challenge.  And as you can see, often after they skyrocket higher, many stocks give up much of their hard earned gains.
The key is to use lists like these to identify stocks that have momentum… and then research them further.
See if there's a better company hiding underneath the dark clouds of the penny stock world.
You can also identify trends by where the big movers are coming from. For example, a lot of these companies are in the healthcare industry… so paying a bit more attention to that industry could pay off handsomely.
So keep your eye out for penny stocks on the rise… you never know what you'll uncover!
Profitably Yours,
Penny Stock Research
Category: Investing in Penny Stocks, Penny Stocks to Watch