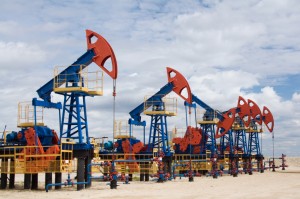 In yet another week of heavy stock market volatility, one company was more volatile than most.  Tri-Valley (TIV) just experienced one of those weeks that management can't wait to forget.
Here's the deal…
TIV is listed as an oil and gas drilling and exploration company.  And they are, in fact, producing oil and gas from their properties in California.  But, like many penny stocks, they are dabbling in multiple industries.
In this case, the company is also developing two mineral properties in Alaska.  In other words, TIV is mining for gold.
Wait, an oil and gas exploration company is digging for gold?  How did that happen?
You see, it's not uncommon for penny stocks like Tri-Valley to attempt to "strike when the iron is hot".  And nothing is hotter right now than gold.  What's more, oil prices have fallen recently with the expected slowdown in the global economy.
In general, it's a not a bad idea for a company to diversify their sources of income.  So, developing oil and gold properties may seem reasonable.
Here's the problem…
TIV is too small to be branching out into different businesses.  And more importantly, they are operating at a significant loss.
What management should focus on is their bread and butter – oil and gas.  Once they start turning a profit, they could look at expanding into different products like gold.
Unfortunately, it may be too late for TIV.
As I mentioned earlier, last week was a disaster.  First off, the company missed badly on earnings.  Apparently, a significant mechanical failure at the company's Pleasant Valley oil project caused production to fall well below expectations.
See what I mean about focusing on one business at a time?  Why is a company with just two million a year in revenue trying to expand when they can't meet expectations in their core business?
And to make matters worse, TIV's CFO just quit.  It's rarely ever a good sign when a C-level executive walks away from a company… particularly after disappointing earnings.
Investors seem to agree.
When the poor earnings numbers were released, the stock dropped nearly 30% in a day.  Just a day later, when the news hit that an interim CFO had been hired, TIV shares dropped another 22%.
Like I said… rough week.
Year to date, TIV has plunged over 64%.  And it's down a whopping 80% off the 52-week high.  Moreover, it doesn't look like the company is going to be out of the woods anytime soon.
TIV is wisely leasing their Alaska mineral rights to another company, US Gold (UXG).  And, they have an option to buy a 60% interest in the projects.  That's a step in the right direction… but it will take time to pay off – if it ever does.  For now, stay away from TIV while the company puts their house in order.
Yours in profit,
Gordon Lewis
Category: Energy Stocks, Natural Gas Stocks, Oil Stocks, Penny Stocks On The Move