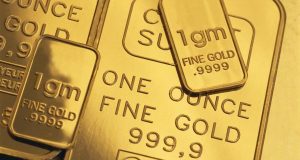 Recently, my colleague Brian Walker wrote this article on why gold's price drop makes for a great buying opportunity.  But one of the reasons he gives for investing in the precious metal is because he expects inflation to soar.
More specifically, he believes Operation Twist, and other recent quantitative easing programs put forth by the Fed, will flood the economy with money… and lead to inflation.
Of course, gold is considered by many to be an excellent inflation hedge.  So, this recent pullback in the price of gold creates a particularly attractive entry point.
I agree with Brian… the gold "bubble" hasn't popped.  I view this as a temporary setback and believe the price will once again head higher.
But I don't think it has anything to do with inflation.  In fact, I'm not even remotely concerned about inflation right now.
Here's the thing…
Inflation generally occurs when too many dollars are chasing too few goods.  But that's clearly not a problem we're having right now!
Look, the average person isn't seeing any of the Fed's cash.  And even if they were, they'd probably use it to pay down debt or stash it in a bank account.
Moreover, most companies aren't spending either.  They're hoarding cash, buying back shares, or acquiring other companies.  None of those things will directly lead to inflation.
Fact is, most of the Fed's "easy money" is sitting in the reserve accounts of large banks.
But what about commodities?  Shouldn't we be worried about food and energy inflation?
The thing is, the recent bull market in commodities was mostly due to legitimate supply and demand concerns (and to some extent, the easy access to commodities from ETFs).
Don't believe me?  Just look at the chart of the iPath Dow Jones-UBS Commodity Index ETN (DJP).  It's a good indicator of the overall commodities market.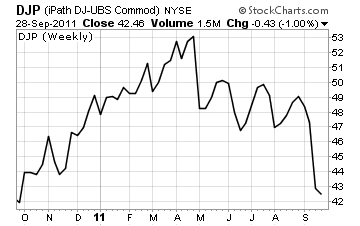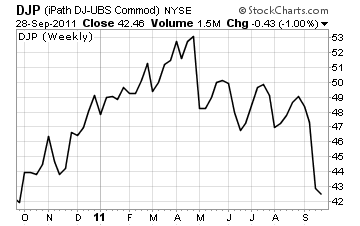 That sure doesn't look like investors are worried about inflation.  More likely, it's a sign that the demand driven surge in commodity prices is at an end.
Here's the key…
Brian may be wrong about inflation, but he's not wrong about gold.
For many reasons, gold is considered a safe haven investment.  It doesn't really matter if investors view it as a hedge against inflation, deflation, political uncertainty, or whatever.  The important thing is that it's viewed as safe.  Period.
I mean, central banks around the world are buying gold by the ton!  I can't think of any greater way to endorse gold's safe haven status than the hoarding of it by central banks.
What's more, it means there's a floor under the price.  Those central banks won't be liquidating their gold holdings anytime soon.
Bottom line…
I'm not concerned about inflation whatsoever.  But I do think this is a good time to buy gold, particularly gold miners.  And gold miner penny stocks are trading at extremely favorable valuations right now.  Don't hesitate to grab them while they're cheap.
Yours in profit,
Gordon Lewis
Category: Gold Stocks