Penny stock investing can be very exciting.  But there's one industry where you'll hit the highest highs and have the opportunity to really rake in the dough… penny stock mining companies.
As penny stocks go, these are some of the most explosive stocks in the market.  They can truly turn a tiny investment into a home run in no time!
To understand why, all you have to do is look at a commodities chart.  Better yet, let's just look at two key commodities, gold and silver.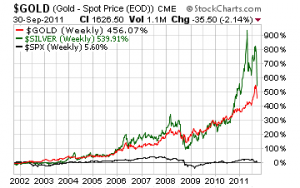 Over the last 10 years, gold is up a whopping 456% and silver is jumping a record 539%.  What has the S&P 500 done over the same timeframe?  It's climbed a pathetic 5.6%.
It's amazing how high gold and silver have climbed.
Now let's connect the dots… if the price of gold and silver are through the roof, it means supply and demand is out of whack.  Clearly there's much more demand for precious metals.  And that simple fact has a very interesting impact on the mining business.
Right now, mining companies pulling gold and silver from the ground are making money hand over fist!
See, when a mine is opened, the engineers calculate the cost to extract the precious metals.  Obviously, if it's expensive to extract (for example in difficult to operate environments), or the precious metal concentrations aren't high enough, entire mine sites will sit undeveloped.
But right now the exact opposite is happening.
Because of surging prices, mine sites that were once considered too costly to operate are now seeing a huge surge in demand.  Gold prices are over $1,600 an ounce and silver prices are right around $30 an ounce.  That means a lot of once forgotten mine sites can operate profitably.
So, if you own one of these mines, you could be sitting on a fortune.
The guys dancing a jig right now are the penny stock mining companies of course.  See, many of these smaller companies have spent years, and sometimes decades, seeking out precious metal deposits.  Many of those sites wouldn't have been profitable to mine 10 years ago… but today, the numbers are different.
Today, these small, out of the way properties are becoming incredibly hot assets.
Bigger mining companies are circling them like wolves circling a wounded deer.  They're biding their time before jumping in and buying up whole companies "lock-stock-and-barrel".  This is when the big boy mining companies can pay huge premiums for these little companies.
And that makes shareholders some serious money.
So what makes a good mining investment in penny stocks?
I could write a book on the subject, but that would take forever.  Instead, let me give you two little things to look for.
First, make sure the company actually owns a mining site. 
I know this sounds crazy, but with all the excitement in the industry, many fraudsters are trying to take advantage of investors.  Look at the company's SEC filings.  Look at the information on their website.
Believe it or not, I once uncovered a "mining" company that said they owned a mine.  Imagine my surprise when I read their SEC filings and they said they didn't own any assets!  Crazy, but true… Make sure the company actually owns a mine!
Second, pay close attention to the company's 43-101 filing.
See, the best way to prove the value of a mine is through a 43-101 filing.  It's a fancy document the Canadian government asks mining companies to file.  It's prepared by a professional geologist and goes step by step through the research on the mine and their best estimates to what kind of deposits might be found.
Believe it or not, many US mining companies list in Canada just so they can publicize this document.
It's always a fascinating read. 
So if you're looking at making a penny stock mining investment, read the 43-101 filing.
Now, a word of caution, not every company has one.  Some have one on file.  Some companies are working on all the drilling and analysis to put a 43-101 together.  And other companies are "talking" about one day doing a 43-101 filing.
Obviously the closer to having an actual document on file, the more realistic mining claims can be.
Remember, it's an exciting world out there, especially with penny stock mining companies.  Just make sure to do your due diligence.
Until next time,
Brian Walker
Category: Gold Stocks, Hot Penny Stocks, Penny Stocks to Buy, Silver Stocks