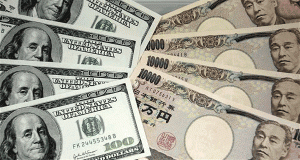 In the heart of earnings season, we're witnessing a slew of companies surprising analysts by unexpectedly beating estimates.  And it's happening even as the global economy is showing signs of slowing.
There's a good reason why some companies are finding a way to profit, which I'll tell you all about in a minute.
If you missed the quarterly earnings report from mega-cap insurance giant Prudential Financial (PRU), then you missed a whopper of a quarter.  The company's latest quarter saw earnings climb to $4.64 per share versus an estimated $1.55 per share.  In essence, PRU tripled their estimated earnings!
The amazing part is revenue only climbed to $11.4 billion in Q2 versus the $10.48 billion estimated.  That's only an improvement of 12.9% over the same quarter last year.
So how did Prudential magically drop so much profit to the bottom line?
In their earnings call, management reported "unfavorable claims fluctuations" and "challenging market conditions."  It's not as if the magic profit fairy dropped a pile of cash in their lap.
Well, the answer lies in their currency exchange…
If you don't follow PRU, you should know they've been expanding heavily into foreign markets.  And one of their largest expansions right now is into Japan.  Ah yes, land of the Yen – the mighty, mighty Yen.
In this most recent quarter, the mega-cap insurer recorded a one-time gain of almost $2 billion as a stronger Japanese Yen drove up the value of the company's derivatives.  And a profit on currency is pure profit – with no overhead.
If you have been following the currency market, you'd know the Yen was on a tear from April to June.  Take a look at the chart below to see for yourself…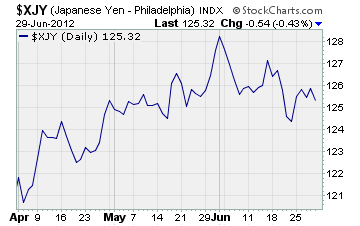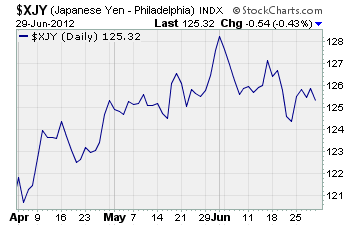 It was the stronger Yen relative to the dollar that caused the market value of Prudential's derivatives to surge during the April-June quarter.
The take away for penny stock investors is simple…
Do your homework and find companies that are doing business abroad.  You may just find that they're in position to benefit from the wild swings in the Forex market.  Just like Prudential, there are plenty of companies expanding into Japan and set to benefit from the recent rise of the Yen.
A triple in earnings on a penny stock could reap outsized returns for investors.
***Editor's Note***  If you're not sure how to research penny stocks, our in-house guru, Gordon Lewis, has created a "must read" breakdown for anyone looking to profit in micro-caps.  Click here to check it out.  Plus, his next recommendation in Penny Stock All-Stars is coming out this Thursday.
Until next time,
Brian Walker
Category: Penny Stock Tips