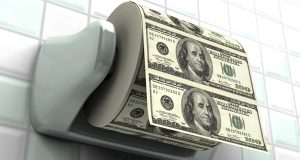 This week we're exposing these three popular Pump & Dumps: North Springs Resources (NSRS), iTrackr Systems (IRYS), and NavStar Technologies (NVSR).
That said, welcome to Pump and Dump Friday, where every week we highlight a few of the "bogus" promotions that are going on in penny stocks.
If you don't know how these schemes work, be sure to check out this free report that exposes the whole thing.
Now without further ado, here are this week's disasters waiting to happen:
North Springs Resources (NSRS)
Well, I'm a big enough man to admit when I'm wrong about something… and I was wrong about NSRS.
Let me clarify… I wasn't wrong about NSRS, the company.  No, I was wrong about the pumpers.
You see, last week I said their emails this week would talk about the "short sellers" beating down NSRS and that they'd "get burned".  But I was wrong…
The pumpers have gone completely dark!
They haven't said a word about NSRS at all.  They've simply left subscribers to their "newsletters" hanging!  No direction, no hype, no hope… nothing.   And of course, you weren't expecting an apology, were you?
If you're holding out for something like, "We're sorry, we were wrong about NSRS", you might as well move on.
You'd be more likely to get something along these lines…
"Didn't you read that disclaimer at the bottom of our email, written in the tiniest font we could find?  It was hiding the fact we are not investment advisors, and you shouldn't invest in anything we suggest.  Oh, and that's where we tell you we were paid off to hype shares of this company."
The pumpers burned their subscribers so bad this time, that they've gone into hiding.  We've seen nothing hit the wires from Free Penny Alerts, or any of their multiple affiliate websites, since February 23rd.
I'd guess they're on holiday somewhere warm… sipping a cold beer, catching some rays, and laughing all the way to the bank.
Remember, this was a big payday for a pumper.  They usually get $5,000 here, $15,000 there, $30,000 there… basically whatever they can negotiate for.  But with NSRS, Free Penny Alerts cashed in for $600,000.  And just before NSRS, they hauled in a massive $1.2 million to hype shares of ABOT! 
What a racket!
In the end, shares of NSRS are trading back where they started… down near $0.15.  They've crashed hard from a high of $1.72 on February 7th.  It was three weeks of all-selling by the "third party", with just a day or two of a rebound.
This will be the last time we write up NSRS, as they're finished.  The pump and dump scheme has run its course.  And anyone left holding shares might as well pack it up.  It's dead money, and probably will head even lower from here.
In fact, the only reason I wrote up NSRS this week is for you… my readers.
Since you've heard nothing from the pumpers, I felt the need to give you some closure and let you know what's happened and why.
Now, onto the next pump and dump!
iTrackr Systems (IRYS)
Sometimes I feel like a private investigator… I'm constantly searching for clues to uncover the truth.  And that goes double for IRYS.
Before I get to that, let me tell you a bit about the company.  IRYS is an e-commerce software and services company that develops, markets, and commercializes an online application for product and inventory search. IRYS runs a social networking website, itrackr.com.
From what I can see, the pumpers could be setting up for a big promo on iTrackr.
Investor Soup was paid by Sherwood Ventures, LLC to pump shares of IRYS.  But as it turns out… Sherwood Ventures was paid $150,000 to promote these shares and gave Investor Soup $30,000 of their take to pump shares of iTrackr.
And the hype machine just fired up on this stock earlier this week.  So we'll see what they come up with on IRYS, and how high they can push the stock…
As usual, the pumpers can only point out technical issues and overhype the financials.
In this case, our pumper exclaimed IRYS had revenue growth of 1,200%.  They went on to say, "That's a growth rate about 6 TIMES what the now-lofty Groupon could deliver…"
What amazes me is how the pumper get away with saying this kind of stuff.  While it's true, IRYS does actually have revenue, the pumper needs to head back to 3rd grade for some math education…
For the first nine months of 2010, IRYS had gross revenue of $35,860.  For the same period in 2011, iTrackr did $324,859 in gross sales.  $35,860 x 900% = $322,740… only 300% off.
However, what the pumper failed to tell you is that gross revenue cost the company $129,893 in 2011.  They booked no cost of goods in 2010.  Some quick math will tell you gross profit for 2011 is really $194,966… much closer to 550% than 1,200%.
Don't you just love the pretzel logic these pumpers use?  But it gets worse for IRYS…
We haven't accounted for expenses yet, and what the bottom line actually looks like.  Well, let me just say, it looks pretty ugly down there.
For the first nine months of 2011, IRYS had expenses total $637,986.  And they lost $461,729 in that time period. 
Did the pumper tell you that?  Of course not!
If losing money isn't enough reason to avoid buying this company's stock, here's another big reason for you…
IRYS has over $4.5 million in accumulated debt!  And, their accountants are concerned they'll be able to stay in business, since they're burning cash at such a high rate.
Once again, did the pumpers highlight these fine details in the hype they sent out?  Of course not!  Let's just say, iTrackr is yet another pump and dump you should stay away from.
NavStar Technologies (NVSR)
Here's an oldie, but a goody.  I brought the shameless marketing of NVSR to your attention back on December 1st of last year.
If you recall, NavStar Technologies is a company that is developing services for tracking, monitoring, and reporting the location and condition of high value cargo. NVSR hopes to offer commercial GPS tracking and monitoring products.
When we first exposed NVSR, Penny Stock Spy was paid $2,500.  Shares were trading at $0.20 back then.  Of course, now with share prices once again down near $0.14… it's time to run yet another pump and dump on the shares.
This time we have more than one pumper involved.  Stock Hideout is collecting $7,500 to hype shares of NVSR.  And better still, Beacon Equity is cashing in for $40,000 to pump NavStar.
If you recall, last week I wrote up a pump and dump on WTII.  Well, the team over at Beacon Equity pumped those shares for a mere $30,000.  They must be moving up in the world…
So what makes NVSR so special anyway?
Well, nothing actually! 
And that's true starting with the top line.  Revenue was $0 for the 3rd quarter of 2011 (their most recent statement).  That's some weak revenue for the $338,299 in selling and administrative expense… I'll tell you that!
Now, for the same quarter, NavStar lost $1 million.  That's a bit scary for a company with no revenue.   Just think, I could spend a million and give you nothing back too… simply send your money into me!  I won't even waste your time with any financial documents.
Apparently, NVSR doesn't like financial documents either.  I say that as the company no longer files their documents with the SEC… They terminated their stock registration back in 2008!
The company clearly can't keep running while losing $1 million a quarter and bringing in no revenue.  So the only way they can keep operations afloat is to take on debt… which NVSR is excellent at.  To date, the company has an accumulated deficit of $16.8 million!
If they sell more shares to keep the company afloat, you can bet it'll dilute the existing shares and make them less valuable.  Not like they're all that valuable to begin with!
Let's hope you can navigate your way clear of NVSR shares.
A final word (and warning).
So that takes care of a few of this week's inglorious "pump and dumps".
Remember, there's a lot more of this going on each week than we highlight here.
As you know, penny stocks are a great place to invest your money.  You just have to do your due diligence to stay away from all the scams out there these days!
Until next time,
Brian Walker
Category: Pump & Dump Alerts