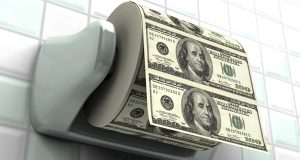 This week we're exposing these three popular Pump & Dumps:  Mistral Ventures (MILV), Caduceus Software Systems (CSOC), and Next 1 Interactive (NXOI).
That said, welcome to Pump and Dump Friday, where every week we highlight a few of the "bogus" promotions that are going on in penny stocks.
If you don't know how these scams work, be sure to check out this free report that exposes the whole thing. 
Without further ado, here are this week's disasters waiting to happen:
Mistral Ventures (MILV)
This one is so good… I had to share it.
Normally you won't find the same penny stock highlighted in our pump and dump two weeks in a row.  But this case is special.  Our pumper has truly gone all out on this one!
Last week we highlighted a promotion from Awesome Penny Stocks about MILV.  They were hyping a puff piece posted in Seeking Alpha by some no-name real estate investor turned self-styled stock analyst.
That's no big deal for a company with no SEC filings, no revenue, $4,700 in cash, and a mere 1 billion shares outstanding, right?  We see that kind of stuff all the time around here.
But here's where the pumpers went all out…
They sent out an email blast saying this stock was the go-to safe haven for investors during Wednesday's stock market selloff!  What a joke…
Here's the excerpt…
"MILV stood firm ground today as it managed to avoid the bloodshed on wallstreet. While the dow lost 400 points MILV closed up at nearly 13 cents."
But it gets much better.  The email continues on…
"It seems like many were seeking refuge in MILV as it has been producing contstant gains for the past couple of weeks. Even gold was down today."
Seeking refuge in MILV?  Come on guys… that's the biggest pile of B.S. I've ever read!  Now if they were saying Exxon Mobil or GE was a safe haven play, I might buy it… but not a stock with a $0.13 share price! 
Please, we weren't born yesterday! 
The bottom line… pumpers have no shame when it comes to hyping their stocks. 
Caduceus Software Systems (CSOC)
The guys down at Premier Penny Stocks landed a whale with CSOC… they were paid over $1.3 million to hype this company for just one month! 
So what's all the hype about?
Our pumper is making a big to-do about CSOC giving away 1,000 copies of their medical billing software.  Are they kidding?  Someone felt it was worth $1.3M to announce a giveaway?  Their PR team needs to go back to school… grade school!
Since that was the only news, let's look at the company a little more closely.
After digging through the SEC filing for CSOC, I couldn't help but laugh…
CSOC is holding just $954 in cash.  Yes, really… that's all.  And when a company is that poor, it usually means there are bigger problems. 
It seems CSOC has an identity problem as well.  Caduceus Software Systems used to be Bosco Holdings… a laminate flooring distributor!
They highlight the change on page 8 of their latest 10Q…
"Its efforts were primarily devoted marketing and distributing laminate flooring to the wholesale and retail markets throughout North America."
The filing goes on to say, "The Company is now in the business of providing medical software to medical professionals.  The Company has not generated any revenue to date."
Talk about a 180 on business models. What's worse, they don't make any money.  And they've accumulated a $5 million deficit!  As a result, the company now has a "going concern".  And that simply means they won't last much longer. 
Clearly, it's tough to transform from a flooring distributor into a software company. 
But it all may not matter much longer anyway.  I think we can simply ignore the pumper's news and keep CSOC off our "buy" list.
Next 1 Interactive (NXOI)
I love reading the fine print on the pumper's websites… it's usually worth a good laugh.  And the latest email from School of Stocks for NXOI is no exception. 
Get this…
Our pumper was paid $25,000 to promote NXOI by… wait for it… Wall Street Hustlers!  There's no doubt in my mind these guys really are hustlers…
And the $25,000 went to great use… the pumper simply commented on the stock's price action.  They told us nothing useful about NXOI.  It's just another piece of junk mail! 
I wanted to see what all the excitement was about.  Let me tell you… it's not pretty.
Next 1 Interactive is a media based company focusing on two segments… travel and real estate. It's a nice surprise to see a company actually selling something. 
In the three months ending August 2011, they generated $400K in sales.  The problem is it cost them $672K to sell it!  That's right… they lose money on every sale!
At this rate, they're better off not selling anything at all.  This is what you call a broken business model.
And the balance sheet on NXOI is, shall we say, lacking…
The company is showing assets of $3.5 million.  But of it… over $2.3 million is intangible assets.  Intangible assets are simply an accounting gimmick.  These "assets" can lose value in mere seconds. 
What's worse, NXOI has over $6.5 million in outstanding covered notes and shareholder loans.  In total, the company has $12 million in outstanding liabilities.
You can do the math, but the bottom line is this company is deep in the hole. 
If you're considering buying NXOI, let's just say you'd be better off moving onto the Next 1.
A final word (and warning).
So that takes care of a few of this week's inglorious "pump and dumps".
Remember, there's a lot more of this going on each week than we highlight here.
As you know, penny stocks are a great place to invest your money.  You just have to do your due diligence to stay away from all the scams out there these days!
Until next time,
Brian Walker
Category: Pump & Dump Alerts