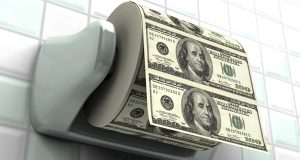 Welcome to Pump and Dump Friday, where every week we highlight a few of the "bogus" promotions that are going on in penny stocks.
If you don't know how these scams work, be sure to check out this free report that exposes the whole thing.
Without further ado, here are this week's disasters waiting to happen:
Mike the Pike Productions (MIKP)
I'm sorry, but this is another ridiculous company… with a ridiculous name… and anyone who invests in this stock can label themselves ridiculous too!
Mike the Pike… More like Mike the PIKER!
Here we have a stock that's trading for less than a penny a share… actually it trades for 4 tenths of a cent.  Look folks – no respecting company is going to let their stock trade at these levels.
I get the attraction though… buy a boatload of stock for less than the cost of a cup of coffee.
But your money would be better spent on coffee – at least you'd get something for your money.
A little digging on this company makes me sick…
They have ONE BILLION shares authorized.  Sure, why not.  I mean IBM has 1.2 billion shares outstanding… they're almost in the same league… right?
But wait, it gets better…
According to the information they post to the OTC Markets website (remember… this IS NOT the same thing as reporting to the SEC), they have a whopping $11,878 in cash.
Fat times right… not so fast.
The company also reports more than $429,235 in current liabilities and more than $686,834 in long term debt.
If you're quick on the math, they owe $1,116,069.
That's more than a million dollars in debt.  But don't worry, in the first quarter of 2011 they posted a net income of $13,703.
At that rate, it'll only take 20 years to pay of their debt.
I can't look at this company any further.  So who actually thinks this company is a good investment?
None other than Mr. Penny Stocks himself.  Who's he?
Don't know, don't care.
All I know is they got paid $8,500 to send out an email saying their research suggests "…solid growth potential…"
Riveting analysis guys.
If you haven't figured it out by now, keep your money in your pocket book on this one.
This is a new company to the pump and dump scene.
Auri is a shoe maker.  They make men's and women's shoes, and their big news this year was going public through a reverse merger.
Here's the first problem…
They have a going concern statement on their financials.  That means their own accountants question whether the company will survive the next year.  It's not a good start is it?
Dig a little deeper and we see they are facing huge losses.  This is the second problem.
They generated $304,037 in sales for the first quarter.  Not bad till you look at their expenses… $213,054 in Cost of Goods, then another $397,645 for Selling General & Administrative costs.  What do they spend it all on?
Add it all up – including a few other expense line items – and they post a HUGE LOSS of $329,332.
So the company's losing money… And their own accountants question their survivability… yet they still go out and sign up a bigwig Investor Relations firm.  These guys can't be cheap.
What's going on here?  Are the inmates running the asylum?
Never mind that, our friends over at East Wind Research say Auri has "…long term potential that is simply unrivaled in these markets."  I don't know what they're looking at because I don't see it!
Wait… wait… what East Wind sees is the $50,000 they're being paid to pump this stock.
If you ask me, this shoe is on the wrong foot!
Yippy is tippy… especially at these levels.
This is one of those scary stocks that make me cringe.  Earlier this year, the stock traded for around 10 cents a share… today it's over a buck.
What scares me about this company is the games they're playing.
For example, they put out a press release about a common stock dividend.  I love dividends, and this got me all excited. Then I looked at the details…
Technically they issued a dividend – but this wasn't cash they were sending shareholders.  Nope.  Instead, they sent a 5% stock dividend.  No problem… I don't mind the extra stock.  I'll just sell it and take my cash.
Wait, wait, wait, not so fast.  The stock shareholders received as a dividend is restricted – that means you can't sell it.
What could be better?
Well, since you asked, their financials could be better.  They have a whopping $17 grand in cash… and only $5.7 million in debt.
Fantastic.
While we're looking at the financials, their total revenue in the first quarter of 2011 was a whopping $9,361.  And that same quarter they lost only $755,008!  This isn't a business it's a cash burning machine.
Now here comes the PUMP…
Investor Soup put out a very thoughtful email about the company.  Their email was so good, a "non-controlling shareholder" paid them $25,000.  It makes me wonder if they're still a shareholder?
This soup smells fishy…
A final word (and warning).
So that takes care of a few of this week's inglorious "pump and dumps".
Remember, there's a lot more of this going on each week than we highlight here.
As you know, penny stocks are a great place to invest your money.  You just have to do your due diligence to stay away from all the scams out there these days!
Until next time,
Brian Walker
Category: Pump & Dump Alerts