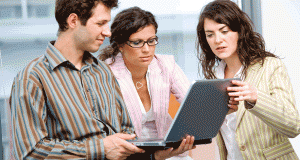 Lately, market conditions bring to mind the word "carnage".  But, lost among the stock market's selloff is interesting news on individual companies.  After all, for most companies, life goes on.
Take Microsoft (MSFT) for example…
This week the tech blue chip announced it was making a very intriguing acquisition.
In case you missed the news, Microsoft is buying corporate social network operator Yammer.
Yammer is a secure, private social network for a company.  In other words, it's Facebook for corporations.  The company provides services for over 200,000 companies including huge corporations such as Ford (F) and EBay (EBAY).
This isn't some minor deal for Microsoft.  They're paying $1.2 billion for Yammer.  More importantly, it signifies the company's entrance into the social media space.  (To be fair, Microsoft has $58 billion in cash in the bank, so the deal isn't exactly making a big dent in their pocketbook.)
Here's the thing…
Social media isn't just for friends and family anymore.  Companies are rapidly moving to social media platforms for internal communications.  And, Microsoft was clearly behind the curve in social media products.
Until now.
But what is it about Yammer that makes it appealing to Microsoft's customers?
For one, social networking can be a quick, efficient way to transfer information.  Rather than relying on email and meetings for communication, companies can start leaning on its corporate social network.
What's more, employees are already using social networking on the job.  Many people use Facebook at work – both for personal and work conversations.  With a dedicated corporate social network, employees can be on a company controlled network.
In other words, it's a far more secure forum than Facebook.  And, it's one the host company can set the parameters for.
Finally, using Yammer products can help increase collaboration among employees.  With an easy, efficient way of conversing with coworkers, companies should see gains in productivity.
So what's the Yammer acquisition mean to you?
Social media is still a hot industry.  That means there's still plenty of opportunity for profits.  Yammer may have been a private company, but there are plenty of public social media companies out there.  And don't forget, many are trading at penny stock prices!
Yours in profit,
Gordon Lewis
Category: Internet Stocks, Technology Stocks