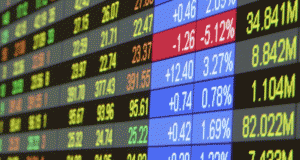 No, it's not a radio signal from an airplane, it's just the sounds coming from the mainstream financial media.  You see, many analysts are looking at the latest series of economic data and calling for a May selloff.
You know the saying, "Sell in May and go away"…
Can they be right?
We'll take a closer look in just a moment.  But first, today's not just the first day of the month of May, but it's also "May Day".
If you're not aware, May Day is also known as "International Workers Day".   As a result, a number of global stock exchanges will be closed to commemorate the holiday.  For instance, China, Germany, India, and Italy will all be closed.  Others include France, Greece, Portugal, and Russia.
The list goes on and on….
This is important to note, as it's going to reduce US market trading volume.  In fact, Joe Bell of Schaeffer's Research told CNBC that the average volume on May 1st is 29% below the normal daily average.
Even if today's market closes lower today, I wouldn't rush out to sell off your portfolio just yet…
You see, sell in May and go away hasn't always been the right call in recent years.  Take a look at the S&P 500's monthly performance for the month of May since 2005.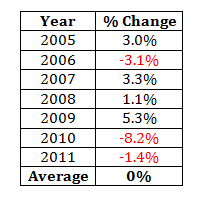 As you can see, the average monthly return over the past seven years is actually dead flat!  And if you pull out the impact of the "flash crash" back in 2010, the average return for May would most likely be positive.
I'd say, with the S&P on fire right now, the trend is hard to argue with.
Even if May Day is a down day, I wouldn't worry all that much.  It's not a great representation of how stocks will end this month.  And for penny stock investors, that goes double!
You see, the major averages may not move all that much on low volume, but a lack of liquidity can cause big swings in thinly traded penny stocks.  It's actually opposite of how the overall market works.  And that means some investors may panic if some of their holdings turn red for the day…
But don't worry.  Once liquidity returns to normal, a selloff in a solid penny stock simply turns into a buying opportunity for other investors waiting to get in.
The bottom line…
If May Day ends in a selloff, it's not necessarily a prediction that May will end badly.   Remember, it's a light volume day.  And over the past seven years, the averages tell us that May is not the best month to "go away".
What you should do is keep an eye open for big picture events, such as the jobs data this Friday.  That's the kind of stuff you need to watch to give you clues where this market is heading… not some tired old saying.
Editor's Note:  If you're looking to add top quality penny stocks to your portfolio, our in-house penny stock guru, Gordon Lewis, can get you started off right!  Discover his secret to finding winning penny stocks…
Until next time,
Brian Walker
Category: Penny Stock Alerts