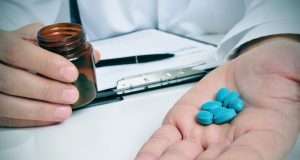 Over the weekend, I heard a quote by legendary Silicon Investor Peter Thiel.  He was asked where investors should invest now.  It was a timely question because precious metals have been on a tear, unicorns in like Uber are sprouting up like mushrooms after a heavy rain, and Silicon Valley real estate is shooting up in value every day.  His answer was like a line out of a gangster movie.  Thiel responded, "I would invest in things that are hard to value."  The reporter pressed him for an example and he stated that biotech was one of those 'hard to value' sectors.
When you think about it, biotechs are very hard to value.  Can the scientists develop the drug?  Will it work on the patients?  Will the FDA approve it?  Can the company market and sell it at a profit?   It is certainly a lot different than selling gasoline or soap.  Plus, most clinical biotech companies do not have the budget to launch and maintain a public relations campaign.  Only a few have analyst coverage at major investment banks.  So even if they were doing great things in medicine, very few people would know about it.
Right now Vivus (VVUS) is operating in that very opaque, very cloudy world of low transparency.   The stock flashed a very strong buy signal recently on very little news other than earnings.   It may be short covering or it may be something else since the volume, while higher than normal, is not that spectacular.  One thing for sure is that it is not rising just because the whole biotech sector is on fire.  VVUS is doing well on its own.
VVUS came to fame because it developed drugs to deal with sexual dysfunction and deficiencies in men.   It became an equal opportunity biotech company by broadening its market by creating drugs for sexual dysfunction in women.  Then it started working on obesity drugs.   For VVUS, their target market is men and women who have sex and overweight people.  In other words, just about anyone is a potential customer.  Another thing in their favor is that the stock price has significant upside potential.  Four years ago it was a $30 stock, two years ago it was a $5 stock.   Experienced speculators ask themselves one question, "Can I make 10x on my money?"  If the answer is, 'Yes,' then it is worth their investment.  VVUS has that potential, given current price levels.
In this case, the absence of news is a good thing and right in line with Thiel's investment advice.  Maybe their pipeline of drugs is showing promise.  Maybe they are a buyout candidate.  Maybe VVUS is doing the acquiring.  Who knows.  But with all this uncertainty, lack of information, absence of news, and promotion, it is nothing but fuel for the fire as VVUS inches higher every day.
Note: Brad Hartung writes the blog Small Cap Pirate.  You can visit it here, bit.ly/1Vlx0y3, for his penny stock ideas.
Category: Biotech Stocks