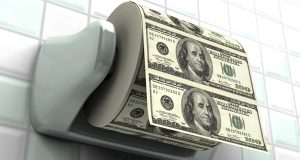 Welcome to Pump and Dump Friday, where every week we highlight a few of the "bogus" promotions that are going on in penny stocks.
If you don't know how these scams work, be sure to check out this free report that exposes the whole thing.
Without further adieu, here are this week's disasters waiting to happen:
Jammin Java Corp. (OTCBB: JAMN)
Majority stockholder, Rohan Marley is the son of Bob Marley.  And he's abusing his father's name for the sake of profit.  The company only roasts a small amount of coffee.  So little in fact, as of January 2011, revenue was reported at a minuscule $1,037 (that's seriously about $1,000).
Something's wrong here. The company has generated a mammoth market cap of $144 million – based on the Marley name – not coffee!  Unwary investors trade about 5M in daily volume at $2 a share.  Several notorious investment rags have been paid thousands to push this "paper mache" company.
Medisafe Technologies Corp. (OTCBB: MTFH)
This company supposedly makes a medical device fitted to a patient's arm.  That prevents injections of medications not prescribed to the wearer.  Use on incarcerated prisoners might be possible, but it hardly sounds viable for the general public.
They have no revenue or marketable product.  Yet, their market cap is $3.41 million.  MFTH has been pumped up by the Penny Stock Alerts newsletter – owned by IPR Agency – for the sum of $30,000.
Clean Transit, Inc. (OTCBB: CLNO)
Last year, these guys were in the gold exploration business.  In 2011, they switched gears, becoming a biomass, clean energy company…quite a back flip!  They have no revenue or legitimate business plan to speak of.
Shares normally trade just under a dime.  Recently they were hyped by CRWE Picks, owned by Crown Holdings.  For their marketing efforts, they'll be compensated $5 million in restricted shares.  That's quite a payoff… if they can ever sell the shares to people like you.
A final word (and warning).
So that takes care of a few of this week's inglorious "pump and dumps".
Remember, there's a lot more of this going on each week than we highlight here.
As you know, penny stocks are a great place to invest your money. You just have to do your due diligence to stay away from all the scams out there these days!
Until next time,
Brian Walker
Category: Pump & Dump Alerts