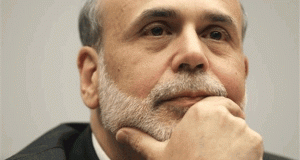 The stock market's been on a nice run lately.  Volatility is way down and investor confidence is on the rise.  However, the relatively tame market is masking some significant, fundamental shifts at the macro level.
As always, much of the most important economic news stems from the Fed.  And just this week, Bernanke and the FOMC sparked a substantial drop in market volatility with their economic commentary.
In a nutshell, the Fed grudgingly admitted that the economy is improving. I say 'grudgingly' because they were quick to point out that unemployment is still elevated and "significant downside risks" remain.
Yet, there's no denying the good news.
The job market is clearly improving.  Inflation is subdued.  And, just recently, we learned retail sales climbed the most in five months.
And that's not all…
The financial markets are starting to truly believe the economic improvement is for real.
Long-term interest rates are slowly climbing, for the first time in months.  Several stocks are reaching new 52-week highs.  And of course, the price of gold is dropping.
Keep in mind, gold is seen as a hedge against economic uncertainty.  If investors are selling their gold to buy stocks, then they're reversing a trend that's been in place for quite some time.
So what's this mean for the prospects of QE3?  Is further quantitative easing off the table?
Not just yet.  Here's why…
For one, Bernanke himself is keeping additional quantitative easing as an option for the time being.  Otherwise, the Fed wouldn't have been so quick to remind us that there's still risk of a downturn.
More importantly, there are still significant macro events which have the potential to derail economic growth.
The European debt crisis has abated somewhat, but it's far from resolved.  And don't forget Iran and the price of oil.  Elevated oil prices could pose a headwind to growth.
Bottom line, I'm not yet ready to write off QE3 just yet.
Here's the thing…
QE3 or not, penny stock investors are in good shape.
You see, the QE programs have been very good for stocks – including penny stocks.  If QE3 gets implemented, it would be equally as beneficial.
On the other hand, if QE3 is off the table, it means the economy is improving.  Clearly, economic improvement is a strong positive for penny stocks – and most every other type of equity.
Basically, we're looking at a win-win scenario for penny stock investors for the foreseeable future.  As such, don't be afraid to add solid penny stock companies to your portfolio.
Yours in profit,
Gordon Lewis
Category: Investing in Penny Stocks