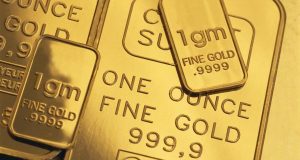 Last week was an encouraging one for stocks.  In fact, it was the best week of the year for the Dow Jones Industrial Average, which climbed a solid 3.6%.
No doubt investors breathed a deep sigh of relief, finally having a moderately bullish week.  However, as heartening as the rally was in stocks, the more interesting asset right now is gold.
You see, after months of slowly declining, gold is back en vogue.
The shiny yellow metal jumped over 4% on the first day of June.  If you remember, that was the day of the atrocious jobs report – and resulted in a major market selloff.
The spike in gold took the price from the mid $1,500 per ounce range all the way above $1,600.  Gold has since given back some of its gains from the big day, but it's still hovering around $1,600.
So why did Friday's abysmal stock market performance spark such a huge move in gold?
Mostly it was due to the dollar.  Or more specifically, it was based on the dollar's reaction to the likelihood of Fed stimulus.
Here's the deal…
Gold typically moves opposite the dollar.  The inverse relationship exists because investors tend to move into gold if they don't feel the dollar is safe. As you know, gold often serves as the quintessential safe haven investment.
So, when the May jobs report turned out to be awful – well below even the most pessimistic analysts' expectations – investors exited the dollar in droves.  And, they jumped right into gold.
Okay, so now we know why gold spiked, but where's it headed?  Is $2,000 an ounce on the horizon?
I think it's entirely possible.
As I wrote last week, both the Fed and ECB are highly likely to enact some kind of stimulus program in the near future.  And, analysts are becoming convinced that central banks will act in unison this time around.
In other words, we could be on the verge of coordinated, worldwide central bank stimulus.
Several of the world's key currencies could devalue in that scenario.  And you know what that means… a potential huge surge in gold.  It could even push the price to $2,000.
As always, rather than investing in the metal directly, I recommend penny stocks.  There are plenty of solid, well-run junior gold miners who will benefit from a gold bull market.  Best of all, investors can grab gold penny stocks at a much more reasonable price than the commodity itself.
Yours in profit,
Gordon Lewis
Category: Gold Stocks