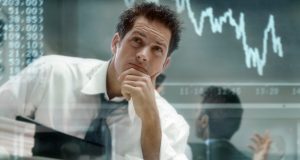 The odds of a stock market correction are growing with each passing day.  But it may not be time just yet…
Unless your head's been in the sand, you'd know about the big surge in the major stock market averages over the past two plus months.  In fact, the S&P 500 is up over 7% year-to-date.  And the small cap-tracking Russell 2000 index is up over 7% so far this year.
The run for most of the major averages has been a virtual non-stop ride higher.  And it makes investors wonder if a correction is on the way.
Now, we've seen some down days here and there.  But, each and every session that starts out lower is seen by buyers as an opportunity to pick up shares at a small discount.
So is the market set to correct?
My initial gut feeling is, no… not just yet.  We're seeing every daily AM selloff, bought up by the market close.  The averages may not close higher, but they're not racking up big single-day losses either.  That means buyers are still looking for any opportunity to capture a move even higher.
More importantly, if the market corrects, or if it doesn't, penny stock investors will be just fine.  Here's why…
Some penny stocks are virtually unaffected by what the market does.  They trade on their own fundamentals and don't really move in tandem with the overall stock market.  These are considered low-beta stocks.
Let me explain what that means…
Beta is a numerical measure of how much a stock moves with the overall market averages.  If a stock moves the same as the markets, that equals a beta of 1.0.  If the market moves up 1%, so would a stock with a beta of 1.0.  If a stock has a beta of 0.50… it would be considered a low beta stock.
However, a good portion of penny stocks move faster than the market, up or down.  They're called high beta stocks, and are by definition, highly volatile.
If you feel the market is set to move higher, then you may want to load up on high beta stocks.  And there's no shortage of high beta penny stocks, that's for sure.  Some penny stocks move 10%, 20% in a single day… routinely.
Now, if you think the market is due for a correction, you may want to reposition your portfolio to have a high percentage of low beta stocks.
These are great to invest in when you feel a market correction coming.  They tend to move down slower than the market most times, so your portfolio is less likely to take a hit when the averages move lower.
The bottom line…
Regardless of a correction, you can easily find plenty of low priced penny stocks that are low or high beta.  With a little homework, you can find the right penny stock for your portfolio.
Until next time,
Brian Walker
Category: Investing in Penny Stocks, Penny Stock Tips