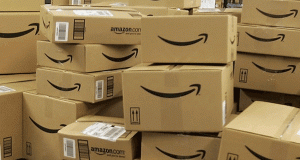 It's a big week for global economic events.  By now, Greece's elections should be official.  No doubt the markets will be following the situation very closely.
And then, on Wednesday, we have one of the more important FOMC meetings in recent history.  Will the Fed provide more stimulus?
I'll certainly be writing about these macro events later in the week, but for now, let's take a break from the big picture.  Instead, I'm going to discuss a very interesting article I came across from Bespoke Investment Group.
Here's the story…
Seven years ago, two well known companies were trading for roughly the same share price.  They're direct competitors though it may not have been obvious at the time.  One company is a brick and mortar electronics retailer.  The other sells products entirely online.
The companies I'm talking about are Best Buy (BBY) and Amazon (AMZN).  And back in June of 2005, they were both trading for around $37.
So what happened?
If you've followed tech stocks over the past few years, you probably have an idea.  BBY is currently trading at $20 a share while AMZN shares are near $220.
Let me put it this way, BBY has dropped 47% in that time.  AMZN… it's up a cool 492% over the same period.
I'm stating the obvious, but that's quite the price divergence.
Looking back, it's not a surprise to most tech investors.  The shift in retail from brick and mortar to online was inevitable.  And, the writing has been on the wall for some time.
But seven years ago?  It probably wasn't so apparent.
Back then, 6% of total sales were online.  Today, online sales have jumped to 9% of the total.  That's a 50% increase in an enormously significant metric in a relatively short amount of time.  In other words, it's a big deal.
Here's the thing…
If you think about it, just 9% of total sales occurring online is a pretty small number.  Clearly, online sales can grow substantially.  Shopping on the web is just too convenient for consumers.
There's simply no way the percentage doesn't continue to increase.
And that's where penny stocks come in.
There are lots of online retailers and other related internet companies trading at penny stock levels.  As brick and mortar companies continue to struggle, well-run online companies will pick up the slack.  After all, you never know who will become the next Amazon.
Yours in profit,
Gordon Lewis
Category: Internet Stocks