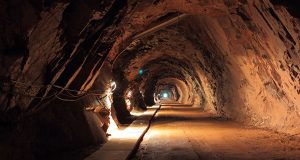 What were you doing in mid-January?  Watching football?  Skiing?  Doing your taxes?  The most profitable use of your time on January 14-19 would have been to place a trade for the shares of a gold or silver mining stock… just about any gold or silver mining stock.  Just a few mouse clicks or a few minutes on the phone would have been enough to earn a respectable gain by now.  Some stocks like MGH and GSS have doubled since then.
The rising tide lifted all boats during those few days in January.  It did not matter if the company was a high cost or low cost producer.  It did not matter in which currency the gold was denominated.  The talent and experience of the company's management did not count for anything.  It did not matter if the mine was located in a politically mining-friendly country.   If the company had something to do with gold or silver, it was a good buy.
But now after the giant run-up in stock prices, it is easy to get nervous about committing precious dollars to gold and silver stocks.  Instead of spending a lot of time studying and researching which stocks are the best buys, why not find a market that looks like gold did just a few months ago?
Uranium mining is that market.  Like gold stocks, uranium miners have been beaten to a pulp.  Like gold, the cost to pull a pound of uranium out of the ground is above the spot market price for most miners.  Like any kind of mining, a lot of uranium is located in politically unfriendly places.  At first glance, there is very little incentive to own the stock of a uranium mining company.
However, all it takes is a little bit of good news or change in opinion to send the price of uranium (and then uranium stocks) higher.  Japan is bringing its nuclear energy program back on line.  The US has plenty of nuclear powered ships and submarines which will always need fuel.   Russia has sold all of its excess uranium.  And, believe it or not, China wants to build 80-100 floating nuclear power plants so that it can provide power to remote islands and military bases in the South China Sea.
The best way to speculate in a market like uranium stocks is to own several of them.  Diversity by itself is not always a good strategy but owning uranium stocks diversified by country, currency, or mine location is a good place to start.  Owning $FCUUF (Canada), $MGAFF (Australia), and $DNN (Canada) would be a good mix.  FCUUF has a super-high grade deposit in the Athabasca region but is still in development.  MGAFF is showing signs of life again despite the weak Aussie dollar.  DNN is an established uranium company with an appetite for acquisitions.
After setting up the small basket of stocks comes the hard part, waiting.  It could be a year or more before you see any real results.  But the results will be worth it.  With most uranium stocks 90% off of their all-time highs, the potential to make 5x or 10x your money is worth the wait.  True speculators know that typically in a portfolio of 10 stocks that 3 or 4 will go bad, 3 or 4 will remain flat, and 2 or 3 will explode in value.  It's those 2 or 3 that will be responsible for gains of 20-30% per year on the whole ten.  But just imagine if the whole industry gets a boost like we saw with gold and silver?
Note:  Brad Hartung writes the blog Small Cap Pirate.  You can visit it here:  bit.ly/1Vlxoy3 for his penny stock ideas.
Category: Uranium Stocks