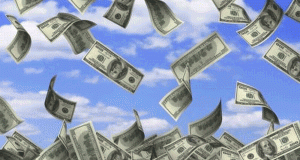 Alright, when I said "free", you should know nothing is truly free.  But in the penny stock investing arena… there is money you can get your hands on that almost feels like it's free.
I'll explain in a second…
At the moment, many investors are scratching their heads after watching the recent rally take the major averages to near four and a half year highs.  The S&P is now trading right near the all important 1,400 level.
So is it time to take your profits and wait for the market to correct again?  Or do you stick it out to see if we make the next leg higher?
That's a really tough question each investor must ask themselves.  But if you're in it for the long haul, many financial pros would tell you to wait it out.
If you're in that boat and you're investing in penny stocks, I have a way where you can earn some sweet cash while you wait and see.
Here's what you do… find penny stocks that are paying a dividend.
While it may sound strange, there are plenty of penny stocks that pay a dividend.  Of course, it's not what I'd say is the rule… but they are out there.
Take for example, Aceto (ACET)…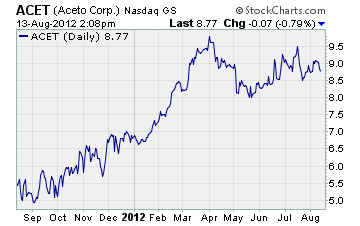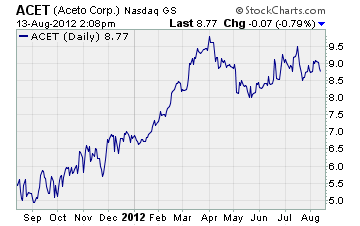 As you can see, the stock has done quite well and has moved higher alongside the major averages.  The best part here is, the company is paying a 2.26% yield at the moment.  That's a $0.20 per share dividend, and not bad at all for a penny stock.
ACET is just one example of the hundreds of penny stocks in the dividend paying universe.  You just need to take some time and, as always, do some research to find the penny stocks that are right for your portfolio.
If you're still looking to remain invested in penny stocks, then adding dividend paying penny stocks to your portfolio allows you to pick up some "free" cash in the process.
Also, by owning dividend paying penny stocks, you hold the potential for big returns and also pick up a bit of downside protection.
Editor's Note:  Not sure which penny stocks are the best for your portfolio?  Our in-house guru, Gordon Lewis, has created a "must read" breakdown for anyone looking to profit in micro-caps.  Click here to check it out.
Until next time,
Brian Walker
Category: Penny Stock Tips