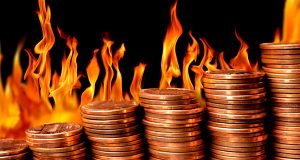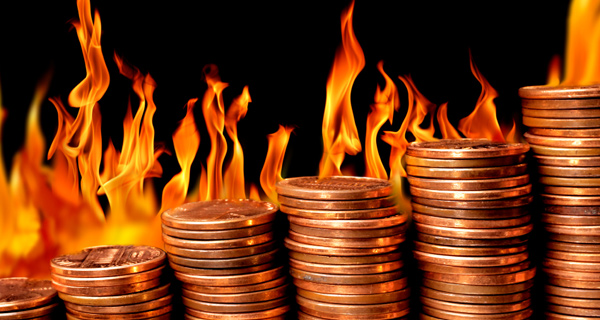 It's an exciting time for penny stocks, especially hot penny stocks like USEC (USU), EveryWare Global (EVRY), and China BAK Battery (CBAK)…
USEC (NYSE: USU)
USU soared last week…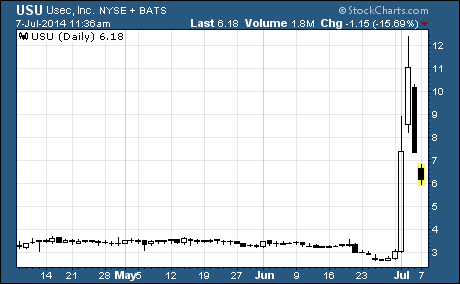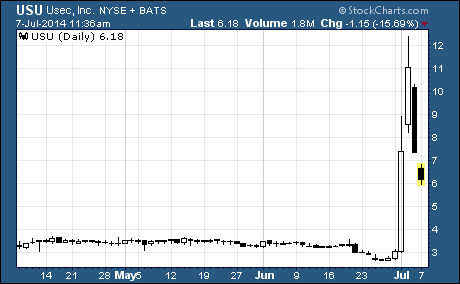 The uranium supplier's shares skyrocketed from the prior week's close of $2.76 to a high of $12.35 on Wednesday before ending the holiday-shortened week at $7.33. The huge upside move was good for a one-week gain of 166%!
USEC supplies low-enriched uranium to commercial nuclear power plants in the US, Japan, and internationally. The company also provides contract work services to the US Department of Energy.
Why did the stock take off?
USU rose on news that it's making progress on a recovery plan for its Chapter 11 bankruptcy case. A bankruptcy court judge has ruled the company may seek votes from creditors on the plan. And according to Bloomberg, "the proposed restructuring is supported by holders of about 65 percent of USEC's debt…"
With that said, it looks like USU moved too far too fast.
The stock has fallen sharply since it rose above the $12.00 level for the first time in 10 months. It plunged 33% to $7.33 on Thursday, and the shares are down nearly 16% to $6.20 in today's trade as I write.
EveryWare Global (NASDAQ: EVRY)
EveryWare Global provides tabletop and food preparation products for the consumer, foodservice, and specialty markets. The company markets its products globally under a broad variety of consumer brands, including Oneida and Anchor Hocking. And its customers range from Fortune 500 companies to medium and small-sized companies.
Although EveryWare Global has been in business since 1848, its stock suffered mightily during the past year.
EVRY declined from its 52-week high of $13.74 set in August 2013 to a low of $0.67 this past May. And even though the shares had doubled in value by late June, the stock was still down a whopping 90% from the 52-week high.
But then last week, EVRY took off like a rocket…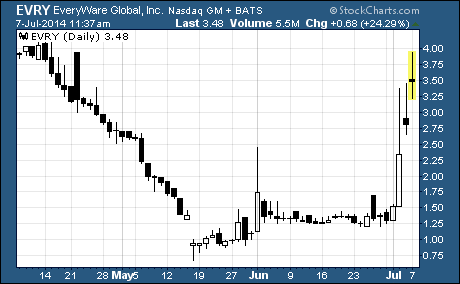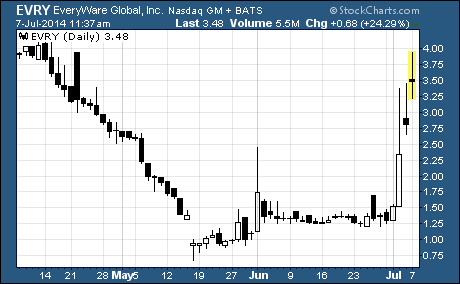 As you can see, the shares surged from the prior week's close of $1.38 to a high of $3.45 on Thursday before ending the week at $2.80. That huge upside move was good for a gain of 103% in just a week's time.
What's going on?
Investors are piling into the stock after the company reported great news last week. Management announced that hourly workers at the company's Lancaster, Ohio operation voted to accept revisions to their labor contract. This is a key victory for EveryWare as these revisions are expected to help reduce the company's operating costs.
And it looks like the rally has legs.
EVRY is up another 24% in today's trade to $3.48 as I write. Plus, more than 6.7 million shares have traded hands so far, which is nearly 14 times the stock's average daily volume.
China BAK Battery (NASDAQ: CBAK)
CBAK made a huge run earlier this year during the frantic rally in fuel cell stocks. But after hitting a high of $4.78 in March to cap off a stunning one-month gain of 212%, the stock suffered a brutal decline.
In fact, CBAK lost 59% of its value in just three months as it fell to a low of $1.95 in May.
After hitting that low, the shares traded sideways for about a month before climbing to $2.30 on June 27th. But hardly anyone expected what happened next. The stock skyrocketed to a new 52-week high last week on very heavy volume.
Take a look at the chart…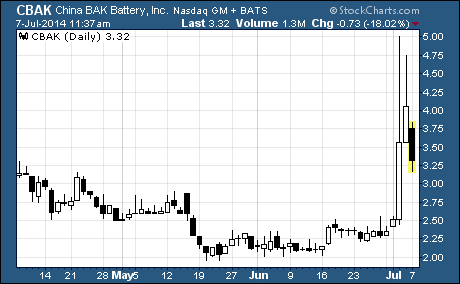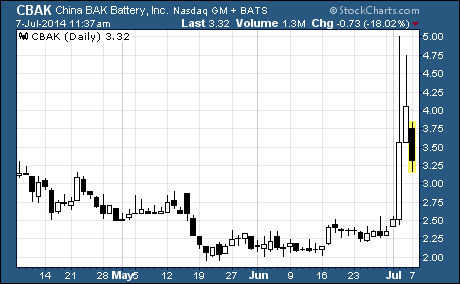 As you can see, CBAK shot up from $2.30 to a high of $5.00 on Wednesday before ending the week at $4.05. The surprise rally carried the stock to a 76% gain for the week!
I'll explain why in a moment… but first a word about the company.
China BAK Battery is a Chinese company that manufactures a variety of lithium-ion rechargeable batteries for markets in China, Asia, Europe, North America, and the Middle East. The company's batteries are used to power devices like cell phones, smart phones, laptops, tablets, digital cameras, and portable gaming devices just to name a few.
However, its batteries for hybrid electric vehicles are behind the recent surge in the company's stock price.
The shares rose after South Korea's LG Chem announced it will build an electric-car battery factory in China by next year. The key part of the statement that excited CBAK investors was the company's projection that the plant will generate $1 billion in revenue for five years starting in 2016.
The company's announcement has served to focus attention once again on China's electric vehicle battery manufacturers, including CBAK. These companies appear to be poised for a multi-year growth cycle as China plans to put 500,000 electric vehicles on the road by 2015 and five million by 2020.
Of course, every one of these vehicles will require at least one battery to power it.
With that said, it's not clear if CBAK's surge last week was just a short-term spike or the beginning of a longer-term rally. The shares are down 18% to $3.32 as I write.
Profitably Yours,
Robert Morris
Category: Hot Penny Stocks