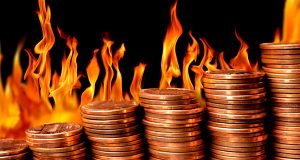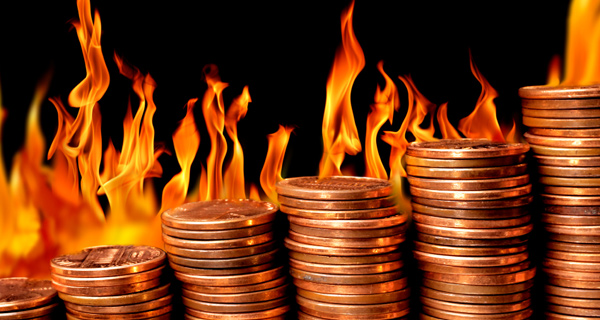 It's an exciting time for penny stocks, especially STEC (STEC), Lake Shore Gold (LSG), and Birks & Mayors (BMJ).  Let's take a closer look at these three hot penny stocks…
STEC (NASDAQ: STEC)
STEC soared 87% last week!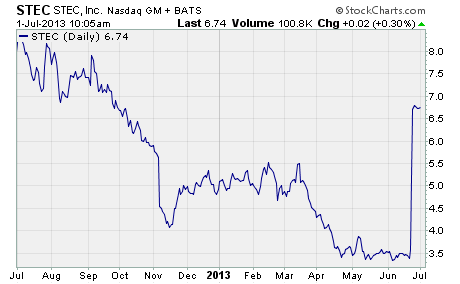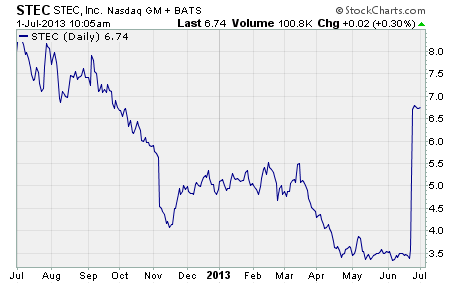 STEC makes solid-state drives, flash cards, and flash modules for use in high performance enterprise applications.  The company also offers dynamic random access memory modules for networking, communications, and industrial applications.
Why's the stock surging?
Last Monday, Western Digital (NASDAQ: WDC) announced it will acquire STEC for $340 million in cash.  That works out to $6.85 per share, a 91% premium over the closing price on June 21st. 
WDC is looking to get its hands on STEC's NAND flash storage technology.  According to Bloomberg, "demand for the NAND flash storage STEC provides is growing as companies like Facebook (FB) and Google (GOOG) rely on it for short-term data storage and users increasingly use mobile devices to access the internet."
The deal is expected to close before the end of the year.
Lake Shore Gold (NYSE: LSG)
Lake Shore Gold engages in the acquisition, exploration, and development of gold properties in Canada.  It also explores for silver ores.  The company's principal properties include Timmins West Complex, Bell Creek Complex, and Fenn-Gib, which are all located in Timmins, Ontario.
Over the past week, LSG has jumped by 72%!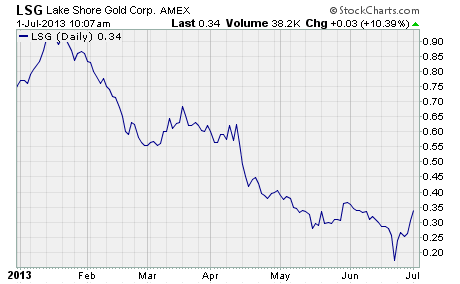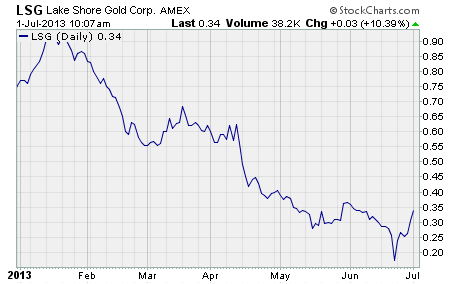 Here's why…
Last Monday, the company said it expects to report strong operating results when second quarter production results are released in early July.  Production for the second quarter is projected to exceed 29,000 ounces at an average grade of better than four grams per ton.  And cash operating costs per ounce are expected to show significant improvement from the first quarter of 2013.
As a result, LSG reiterated its guidance for 2013.  For the year, LSG expects to produce 120,000 to 135,000 ounces of gold at cash operating costs of between $800 and $875 per ounce, with total capital investment of $90 million.
What's more, the company said its mill expansion project is nearing completion. 
The expansion is expected to increase processing capacity from 2,500 to 3,000 tons per day by early September 2013.  Once the expansion is complete, production levels will increase to over 140,000 ounces of gold on an annual basis at cash operating costs below $700 per ounce.
Birks & Mayors (NYSE: BMJ)
Birks & Mayors is a leading operator of over 100 luxury jewelry stores in the US and Canada.  They offer fine jewelry, timepieces, sterling silverware, and various other gifts.    
Here's the thing… shares of BMJ jumped 69% last week!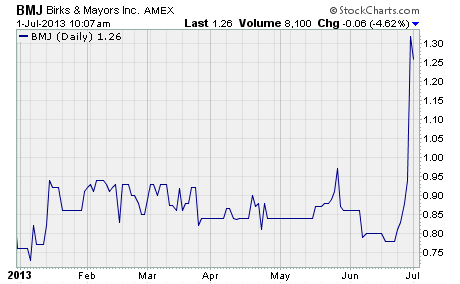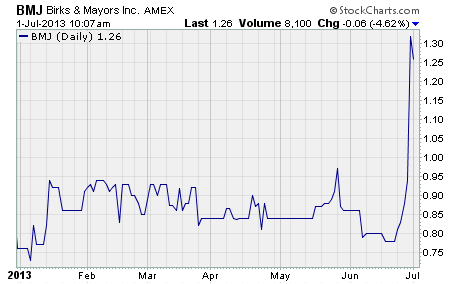 What's going on?
The company announced much improved results for fiscal year 2013.  The key bright spots were a 4% rise in comparable store sales, a 650% rise in net income, and a 450% surge in earnings per share.
Here's what President and CEO Jean-Christophe Bedos had to say…
"Fiscal 2013 represented a year of transition for the Company as we made significant progress toward implementing key initiatives and strategies to improve our business and raise our profitability over the next few years.  The impact of some of these initiatives can already be seen in the Company's success in growing comparable store sales and increasing net income despite a softer than anticipated market environment in Florida and Canada.  As we start a new fiscal year, we plan to continue our strategy to grow sales and gross profit margin by delivering a total brand experience that consistently exceeds our clients' expectations through higher quality products, superior client service and an improved luxury environment."  
It certainly looks like BMJ is back on track after getting hit hard by the financial crisis of 2008.  And judging by the stock's recent performance, many investors clearly agree.
Profitably Yours,
Robert Morris
Category: Hot Penny Stocks