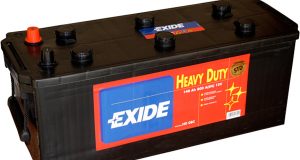 Sometimes, investors can get blindsided by a big move in a stock.  While unexpected events occur more frequently than many realize, occasionally something comes along completely out of left field.
Take this week's huge move by Exide Technologies (XIDE).
The lead-acid battery provider plunged 32% in just one day.  And the shares are down over 75% from the 52-week high in February.
So what happened?
I'll get back to that in a minute.  First, let's take a closer look at the company.
XIDE is a leading provider of lead-acid batteries for transportation and industrial uses.  Their batteries are used in cars, trucks, off-road vehicles, construction and agricultural vehicles, motorcycles, recreational vehicles, marine transportation, and even electrical vehicles.
I have to admit, before this week, I liked this company quite a bit.  They're set to capitalize off an exciting trend in the automobile industry.
It's called "start-stop idle elimination".
Here are the basics…
When an automobile with start-stop technology comes to a stop, the engine is automatically shut off.  As soon as the driver's foot comes off the brake, the vehicle is restarted.
It may sound simple, but this basic process does wonders for both fuel efficiency and carbon emission reductions.  Several major automotive companies are adopting or looking into adopting start-stop systems.
Some analysts even believe this technology will have a bigger impact than electric vehicles.
The problem is conventional batteries can't handle the abuse of multiple restarts.  It really shortens the life of the battery.  So, companies like XIDE are designing batteries to be optimized for start-stop vehicles.
In fact, XIDE is one of the main companies positioned to benefit from the industry's rapid adoption of start-stop technology.
But that was then… and boy, have things changed.
You see, it turns out the company's Portugal facility may have intentionally misstated production and inventories… for the past seven years.  Not only is the company unable to provide full quarterly financials at this time, but they've already reduced guidance by a hefty 10%.
All I can say is, ouch!  So much for XIDE.
As much as I like start-stop technology, the company will have a very difficult time recovering from this blow.  One thing I've learned from over a decade in the investment business… if fraud is involved, stay far away from the stock in question.
In other words… forget you ever heard of XIDE.
Yours in profit,
Gordon Lewis
Category: Hot Penny Stocks