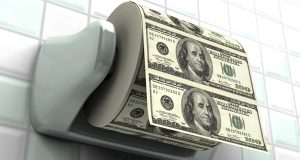 Today we're exposing one of the most popular Penny Stock Pump & Dumps of the week:  Harbor Island Development Corp. (OTCQB: HIDC).
That said, welcome to Pump and Dump Friday, where every week we identify at least one of the many potentially "bogus" promotions going on in penny stocks today.
If you don't know how these schemes work, be sure to check out our free report that exposes the whole thing.
Without further ado, here is today's "disaster waiting to happen":
Harbor Island Development Corp. (OTCQB: HIDC)
Our research indicates HIDC is one of the most heavily hyped penny stocks of the week.  Twelve different promoters have hawked the shares through 57 newsletters.  And many of these promoters have received or expect to be paid a small fortune for their services.
Here's a short list of the top promoters and their actual or expected paydays…
Victory Mark (Penny Stock Heroes, Select Penny Stocks, Preferred Penny Stocks) expects to receive $500,000
FlipVentures LLC (Impressive Penny Stocks) has been paid $125,000
PennyPicks and Penny Stock Newsletters have been paid $37,500
Damn Good Penny Picks has received $37,500
Of course, we've seen some of these promoters before on other pump and dump plays.  We most recently exposed Victory Mark's hyping of Goff Corp. (OTCQB: GOFF) in this Pump And Dump Alert from April 5th.
So, what's the skinny on Harbor Island?
Harbor Island is based in Florida but was incorporated in Nevada in 2010.  It's a self-described development stage company that plans to be a leading retailer of beach and island resort apparel for women.
According to the most recent 10-Q filed on February 2, 2013…
Harbor Island "has not generated significant revenues since inception and is unlikely to generate significant revenue or earnings in the immediate or foreseeable future."
And as of December 31, 2012, "the Company… has a working capital deficit of $215,125 and accumulated losses totaling $257,897 since inception."
Finally, the company itself warns potential investors that "these factors raise substantial doubt regarding the Company's ability to continue as a going concern."
Not exactly a ringing endorsement of the company or its stock!
However, according to recent press releases, Harbor Island is recasting itself now as a multi-channel direct marketing service provider.  This business will be pursued through a subsidiary company called BrandSeed Media Services LLC. 
This is just the kind of makeover the pumpers needed to hype the stock.  And thanks to their efforts… HIDC has surged this week.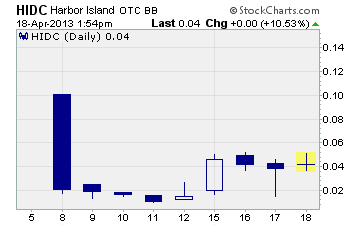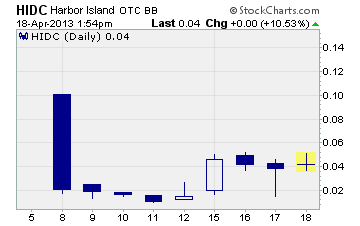 As you can see, the stock was in desperate need of a good pumping. 
It began trading on April 8th at a dime, but quickly plunged 80% to close at $0.02 per share.  The shares then continued to head lower over the next few days, closing at a low of $0.01 on April 11th.
That's a 90% drop in just four days!  
After ticking up last Friday to close at $0.015 for no apparent reason, the pumping campaign began on Monday.  And as a result, the stock soared to a high of $0.05 before closing at $0.0462 for a one day gain of 208%.
The shares have since traded in a wide range between a high of $0.052 and a low of $0.015.  As I write, HIDC is trading around $0.042.
At that price, Harbor Island has a market cap of $18.7 million.  That's a pretty high valuation for a company "unlikely to generate significant revenue or earnings in the immediate or foreseeable future."
The upshot…
While these shares could trend higher as the pumping campaign continues, the music will certainly stop at some point.  And when that happens, you can bet a good number of unsuspecting investors will be left without a chair.
Other Penny Stocks Being Pumped This Week
Eco-Trade Corporation (OTCQB: BOPT) – 85 promoters with 200 newsletters have been paid anywhere from $0 to $150,000 to hype BOPT.
Helmer Directional Drilling (OTCQB: EXLA) – 44 promoters with 132 newsletters have been paid anywhere from $0 to $39,000 to hype EXLA.
As you know, penny stocks are a great place to invest your money.  You just have to do your due diligence to stay away from all the schemes and scams out there these days!
Profitably Yours,
Robert Morris
Category: Pump & Dump Alerts