Finally, Proof You Can Make Money Trading Penny Stocks
Like most of you, I voraciously consume information about the markets.  Aside from my online subscriptions, I also watch the financial news networks, read online blogs, and subscribe to dozens of magazines about the markets and different industries.
Often this is fun reading… confirming what I already know.
Frankly, it's not often that I jump out of my seat because of something I read.
But in the July issue of Money magazine, I found a stat that just blew me away.
It wasn't an article on retirement… or a story about saving money.  I skipped over the investment ideas… and "Latest places to put your money" articles.
At the very back of the magazine, I found a page most investors skip right over.
And right there in black and white I found my proof… proof that you can make money trading penny stocks… what did I see, more on that in a moment.
But first let me ask you a question…
How Do You Prove Trading Penny Stocks Can Make You Money?
It's a great question.
How DO you prove you can make money trading penny stocks?
Do you look at individual trades… or individual traders?
Or, do you track an index?  If so which index?
Well, I have a shortcut.
I think you look at other traders and mutual fund managers.  Those focused on small cap investing.  The funds you pick must focus on small cap stocks and the best penny stocks.  And you absolutely MUST compare them to other funds focused on larger cap stocks.
But you can't just focus on one small time period.
I'll show you which ones I looked at in a moment, the key is once you see what kinds of returns these funds get, you'll have a great idea of what group outperforms.
And this is where I come back to that one page of the magazine.  The one page with some critical information about trading the markets…  And this is what I found.
The Truth Behind Trading Penny Stocks…
Ok, back to the data.
On that back page, I found a rundown of the BIGGEST mutual funds by category.  Now I hate mutual funds… and I have a ton of reasons… you can read all about why I hate Mutual Funds…
But I'm not interested in this information for funds to invest in…
I want to see what their returns are, and this is where the rubber hits the road.
When I looked at the list of the Biggest mutual funds… at the top of the list for Large Cap stocks was Fidelity Contrafund $FCNTX.  It showed a one year total return of 18.1%… but one year isn't a good measure of returns… you have to look a bit longer.
One year can be an anomaly.  A single stock with outstanding returns can change the value of a fund.  It can be luck, or good timing.
But if you look at longer time frames… 3 years, 5 years, even 15 years is best.
I didn't have the longer term data to show the overall impact, but I did see data on a 3 year time frame.
Over three years, the top large cap fund returned 19.6%… even better than the one year average.
Now here's the critical data.
The largest Small Cap fund – Vanguard Small Cap Index $VSMAX, is the best approximation of what a penny stock investor could do for returns.  And… over three years, that fund returned 22.1%.
That's a full 2.5% better return… EACH and EVERY Year!
Just look at the chart.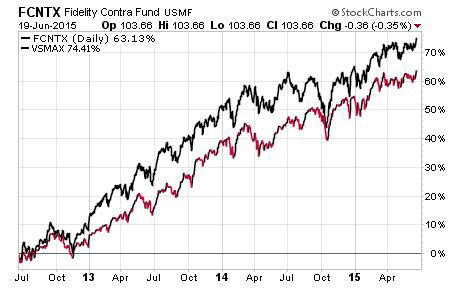 Now 2.5% doesn't sound big… but over 10 years, it blows the doors off the numbers.
With a $100,000 investment in the big cap fund… after 10 years you'd have $598,841.
But with the same investment in the penny stock fund with the steady 2.5% outperformance over the next 10 years… You'd put $736,473 in your pocket… that's an extra $137,631!
Yes… do the math yourself.  Over ten years, the better returns from the small cap / penny stock fund would generate an EXTRA $137,631.
Proof you can make money trading penny stocks!
Have you made money trading penny stocks?  If so, tell me about it… how'd you do it?  Leave me a comment below!
Good investing…
Brian Kent
Note:  If you're interested in learning more about Brian Kent's Penny Stock All-Stars premium service… and learning about the stocks we're trading for profit… you can get the inside scoop on penny stocks here.
Category: BEST Penny Stocks