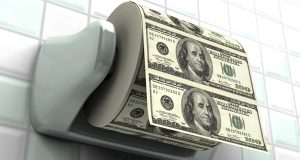 Welcome to Pump and Dump Friday, where every week we highlight a few of the "bogus" promotions that are going on in penny stocks.
If you don't know how these scams work, be sure to check out this free report that exposes the whole thing.
Without further ado, here are this week's disasters waiting to happen:
Hasco Medical (HASC)
What's not to love about a medical company with a bright future?
Well, if you dig a little deeper into this company's numbers, you might not love it so much… and their future doesn't look so bright.
Did you know Hasco Medical used to be a graphics design firm?
I bet the labels on all their products look great!
While the graphics design part of the business is no more, the medical side provides home respiratory and other medical equipment.
Is it a good business?  I'm not sure, you tell me.
They have $3,932 in cash and $150,000 in debt.  Oh, and last quarter they only lost $150,000… but that's much better than the $250,000 they lost in the first quarter of 2010.  And as best I can tell, they've never posted an annual profit – EVER!
The stock is hovering at 3 cents a share and they have 750 million shares outstanding.
This is ridiculous!
The people who think this stock is a great buy are our "friends" at Penny Stock Explosion.  Keep in mind, their write-up on HSAC was only 459 words.  Their email disclaimer is a whopping 1,569 words… where they buried the fact they were paid $12,500 for sending out this email!
Love the business or hate it, this is a stock I'd avoid…
Bizzingo (BIZZ)
The only thing more ridiculous than the company name is people who think the stock's a good investment.
Bullseye Stox is all over this company, and of course they like it… they were paid $5,000 to pump it!  Just read the fine print on their email and you'll see for yourself.
What's so special about this social networking company?
Nothing as far as I can see.
They have $49,012 in cash and owe $452,000 in accounts payable!  All told, the company has just over $69,000 in assets but a whopping $681,183 in debt.  Ugh… if this was a house, they'd be so far underwater Davy Jones would be visiting for dinner!
So they must be driving big revenue… right?
WRONG!
So far the company has managed to generate ZERO dollars of revenue.  That's right, zero dollars in revenue not just last quarter, or last year… but zero revenue dollars since the company was founded!
Talk about a broken business model.
So let me throw another wrinkle into this company's future… in May they announced a company by the name of Orions Digital Technology had managed to acquire a boatload of stock… almost 30% of Bizzingo.  Where'd they buy it?  From Bizzingo's largest shareholders.
Their purchase price was a whopping one penny a share!
If the insiders are selling for a penny a share, why would you be buying?
It doesn't take a rocket scientist to see that this business isn't working, and neither is this stock!
BizRocket (BZRT)
BizRocket wants your kids to sign up for their pre-teen social networking site.  While it might be a fun ride for the kids… shareholders are going to get taken for a ride here.
Some of our pump and dump friends are all over this story.
They're hyping a throwaway press release about the company launching a website for pre-teens.  Why the hype?  Because the guys sending out the emails were paid… and paid handsomely… $7,500 just to send out one email.
I wish I could tell you good news about the company.
I wish I could comment about their current cash position, their liabilities, or even their revenue.
I'd love to highlight their earnings stream, and what it means for the value of the stock…
BUT I CAN'T!
See, the company doesn't have any documents on file with the SEC.
As a matter of fact, if you search for the BizRocket dot com name, nothing comes up.  Nothing comes up under the website name either.
Worst of all, a generic search throughout all the documents on the SEC website uncovers nothing about this company.
So I went one step further… I tried to contact their Investor Relations Department.  Unfortunately, they don't have one. At least, not one I could find.
When information is this hard to come by, you have to wonder what's going on.
It looks to me like this is a phantom company… with a phantom business… being promoted by phantom stock hypesters!
Stay away… stay very far away.
A final word (and warning).
So that takes care of a few of this week's inglorious "pump and dumps".
Remember, there's a lot more of this going on each week than we highlight here.
As you know, penny stocks are a great place to invest your money.  You just have to do your due diligence to stay away from all the scams out there these days!
Yours in profit,
Gordon Lewis
Category: Pump & Dump Alerts