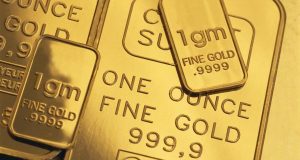 Gold is back.  Well, it never really went away.  The shiny metal just took a brief hiatus from the spotlight.  But if the recent surge in price is any indication, gold is once again front and center in investors' minds.
So what's going on with the precious metal anyways?
I'll get back to that in a minute.  First, let's take a quick look at what the price of gold has done over the past few months.
Take a look at this chart…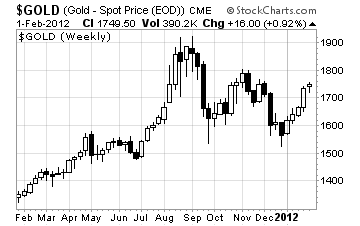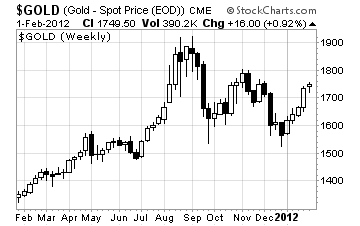 As you can see, gold peaked around $1,900 an ounce in late summer of 2011.  It then plunged as low as $1,550 in the fall and again at the end of the year.
But since the pullback in December, gold has done nothing but climb.  And, it's now trading for $1,750 an ounce.  That's a 12% year to date increase.
Here's the deal…
Although multiple factors were behind gold's selloff last year, there were two main drivers – dollar strength and rising margin requirements.
In a nutshell, the escalating European debt crisis caused a mass inflow into the US Dollar.  Keep in mind, the dollar and gold often share an inverse relationship.  So, when the dollar goes up, gold usually goes down.
At the same time, the Chicago Mercantile Exchange jacked up the margin requirements needed to hold gold futures.  Basically, they made it very difficult for smaller traders to afford to play in the gold futures market.
The impact on gold was immediate and obvious (as can be seen by the late summer plunge I mentioned earlier).
Still, it's important to put gold's price drop into historical perspective.  Don't forget, last year's low of roughly $1,550 is still well above previous record highs for the yellow metal.
So why is gold back in vogue?
Simple, the Fed… or more specifically, the Fed laying the groundwork for QE3. 
The massive boost in liquidity due to expected quantitative easing is translating to a lower dollar.  And we know the price of gold tends to move opposite the dollar.
What's more, Europe is far from out of the woods.  As such, there's still a fair amount of global uncertainty.  And gold is still one of the most popular safe-haven investments out there.
Bottom line…
Demand for gold is once again on the rise.  With QE3 on the horizon and Europe's debt crisis still unresolved, I don't see that changing anytime soon. 
Don't be afraid to add gold to your portfolio… or better yet, buy penny stock gold miners.  By investing in small gold miners, you'll get exposure to gold at a fraction of the price.
Yours in profit,
Gordon Lewis
Category: Gold Stocks