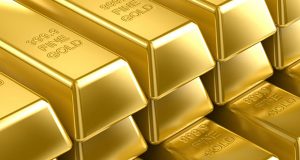 Gold is once again in the spotlight this week.  But this time it was the plunging price of the precious metal making the headlines.
The yellow metal nosedived 5% yesterday, the biggest one day drop since September.  And while gold's still up 8% for the year, investors are certainly stinging from the fall.
Silver got hit even harder, plunging nearly 7% on the day.  Although, the second most popular precious metal is still up over 20% year to date as of this writing.
So what caused the massive selloff in precious metals?
Bernanke… who else?
Remember, gold had returned to its consistently rising ways over the past several weeks.  One of the key catalysts was the strong prospect for QE3.
Early in the year, the Fed made it clear they were laying the groundwork for another round of quantitative easing – if the economy didn't appear to be on the right track.
The markets – and gold – took that info and ran.  Investors all but assumed QE3 was a done deal.
Keep in mind, gold tends to move opposite the US Dollar.  The commodity basically serves as a counter currency to the dollar and other safe-haven currencies. 
And, since QE3 would result in a huge increase in liquidity, it means the dollar would lose value.  As such, investors piled into gold.
But then yesterday happened…
This time around, Bernanke gave no signal that QE3 was on the table… or coming anytime soon.  And, he said that the inflation outlook was "subdued".  The dollar spiked higher on the news. 
And of course, the price of gold plunged.
But is that all for gold?  Is the bull market for precious metals over?
Hardly.
Look, gold and silver were both overbought.  No asset is going to go up and up every single day. And while this recent selloff was fairly extreme, there's no reason to believe the market has reversed.
And that's not all…
Gold isn't just a hedge against the dollar.  It's also a hedge against global uncertainty.  And there's still plenty of that out there.  Not to mention, the US economy isn't exactly out of the woods just yet.
I still think there's a strong possibility we'll see some form of QE3 by the summer.  If not, it means the economy is improving by leaps and bounds.  And that would make everybody happy.
Bottom line… hang on to your gold (and silver) for the time being.  The precious metals bull market isn't over yet.
Yours in profit,
Gordon Lewis
Category: Commodity Stocks, Gold Stocks