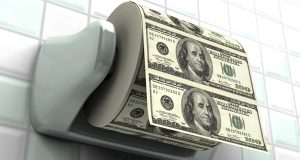 This week we're exposing these three popular Pump & Dumps:  Focus Gold (FGLD), Lone Star Gold (LSTG), and Bioheart (BHRT). 
Welcome to Pump and Dump Friday, where every week we highlight a few of the "bogus" promotions that are going on in penny stocks.
If you don't know how these scams work, be sure to check out this free report that exposes the whole thing.
Without further ado, here are this week's disasters waiting to happen:
Lone Star Gold (LSTG)
This week we have a hot stock pick from a well known pumper.  Only he's not telling you to buy this stock… he's whispering it to you!
That's right, Whisper From Wall Street, put out an alert this week on Lone Star Gold (LSTG).
They highlight the fact that this company has mining property in Northern Mexico estimated to contain over $18 billion worth of gold and silver.  Wow, what a find… you can buy the stock for right around a buck today.
But now let me bring something to your attention…
Right in the disclaimer, our pumper notes:
"WFWS Consulting Inc. has been paid $30,000 cash by Winning Media for the purpose of increasing public awareness of LSTG.  Because these are advertisements, our role is to put the company in the best light.  This means we may mention the positive and ignore the negative."
I want you to read that last sentence again… "This means we may mention the positive and ignore the negative."
Thanks guys… glad you're looking out for my best interests.
So of course I couldn't help myself… I had to know what the negative is.  Luckily this company recently made a few filings with the SEC.
So a company with $18 billion worth of gold and silver in the ground must have a pretty impressive balance sheet, right?  Not so much…
Here's some of the negative.  Let's start with the cash… they have none.  Ok, none isn't fair.  They actually have $12,091 in the bank.
Is that enough to start up a mine?  The short answer is no.
Don't forget their $89,850 in liabilities and the fact that they've lost over $100 grand in the last six months.
But wait, there's more…
What's even better is the $585,000 in loans one company executive made from Lone Star during late 2010 and early 2011.  Who'd he loan the money to?  One of his other companies of course.  Oh, and the loans were unsecured, of course.  And they haven't been paid back – don't hold your breath for that one.
And finally, that company executive resigned.  I wish I could add "resigned in shame" but no, he just sucked a half a million from the company… then quit.
Impressive management!
Do I really need to keep going?  What else is wrong with this company?
I don't know… but I know enough to stay away.
Focus Gold Corporation (FGLD)
It seems like the penny stock pumpers have gold stocks on the brain this week… They must have all been drinking at the same dive bar.
Our old friend (and I use that term loosely) Professor Stock recently put out an alert on Focus Gold (FGLD).
The company has some impressive ambitions… they're working on a "Private Equity Strategy" to acquire gold mining properties.  Sounds impressive, but it really means nothing.
Private Equity Strategies is a fancy term "Wall Street" types use to say borrow money!  So they're going to buy mining properties and use loans to do it?  Wow… that's not exciting at all.
I'm going to buy a house this week using a Private Equity Strategy…
Anyway, they lay out some impressive sounding claims.  And why not… according to their disclosure, they were only paid $25,000.00 cash to promote the stock for TWO DAYS.  Nice to see they're in it for the long haul.
So what's the company got going for it?
Well… nothing really… but you have to dig for it.
Take for example their balance sheet.  It shows an impressive $7 million in assets.  Unfortunately, $6.1 million of those assets are mining claims.  No problem, must be some fancy mines right?  WRONG…
Check this out, I found it right in note 4 of the financial statements.
"There are no proven reserves on any of the claims or leases which the Company has under option or has an ownership interest in."
Wait… no proven reserves… so it's just a hole in the ground?
You know that fancy house I'm going to buy using my "Private Equity Strategy"… I think I'm going to dig a hole in the ground and call it a mine.  Want to buy it for… oh I don't know… $6.1 million?
Considering this company lost $1.5 million last quarter… has $1.2 million in liabilities… very little cash… and NO REVENUE, it's not a stock I'd be buying.
Let's move on…
 Bioheart (BHRT)
Like they say, if you're going to go… go big.  And that's what pumper Penny Stock News decided to do.
A few days ago, they put out an alert on Bioheart saying their products have applications in a "multi-trillion dollar industry".  (Really, I can't make this up!)
Of course I thought, wow, that's a big industry… wait a moment.  Let's think about this.
What industries are multi-trillion in size?
Well consider this… the ENTIRE United States economy is $14 trillion.  The ENTIRE Chinese economy is only $5 trillion…
Our pumper claims this little penny stock has a product with applications in industries bigger than the economies of most countries… that's just silly!
Why all the exaggeration?
Simple.  They were paid $20,000 for a "Promotional Campaign" for the stock.  They say it right in the disclaimer.  All I did was read it!
So, I did what I've always done… I looked at their SEC filings.
It was UGLY.
Our wonder company owes a lot of people a lot of money.  The mob might be paying them a visit soon.  Seriously, they have like $34 grand in cash but owe $12.5 million!
But here's where it gets really, really ugly…
Since the company's founding, they've lost over $108 million!
So far this year, they've generated just over $3,000 in revenue.  (I know kids with lawnmowers who've done more in a summer).  And in that time, they lost $2.5 million.
How this company stays in business is anybody's guess.
Stay far, far away.
A final word (and warning).
So that takes care of a few of this week's inglorious "pump and dumps".
Remember, there's a lot more of this going on each week than we highlight here.
As you know, penny stocks are a great place to invest your money.  You just have to do your due diligence to stay away from all the scams out there these days!
Until next time,
Brian Walker
Category: Pump & Dump Alerts